Announcing the first $LMWR Burn Program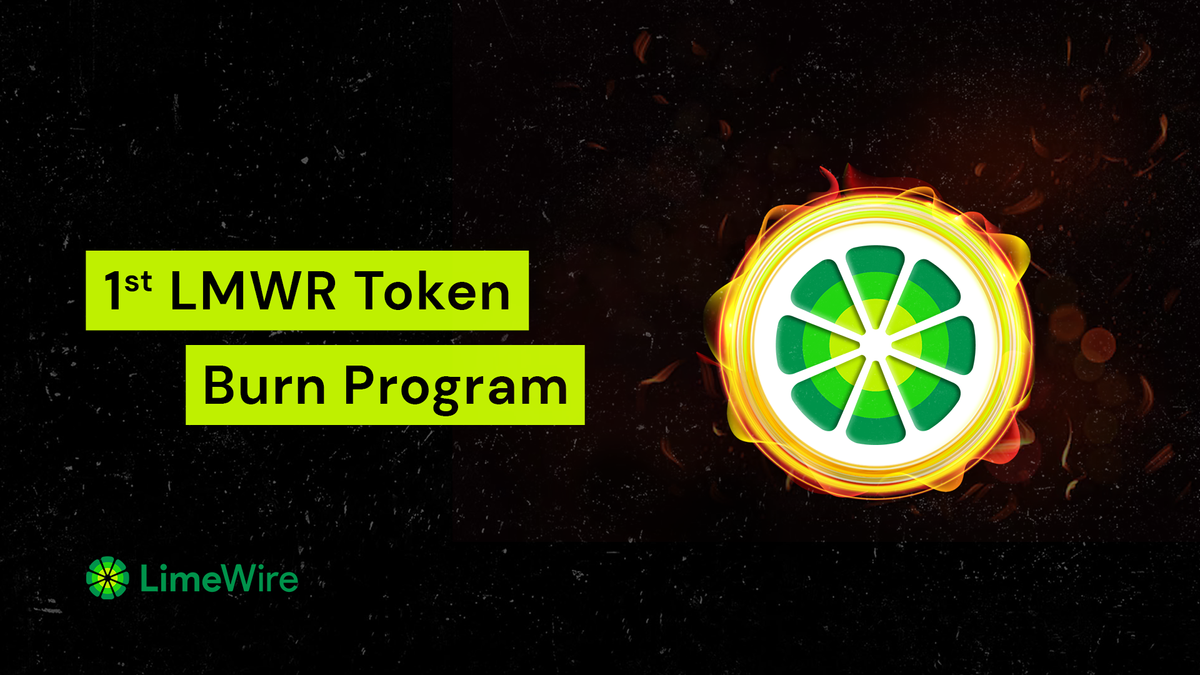 LimeWire will launch it's first $LMWR burn program on November 15th this year to burn 165M unallocated tokens from our Artist Fund & Advisory pool allocations over a 6-month period.
The total amount of tokens burned by April 15th will represent about 17.5% of the total supply of $LMWR.
Why we introduce the $LMWR burn program
The goal of the first $LMWR burn program is to strengthen the community of current $LMWR holders and at the same time reduce the supply of LimeWire-controlled token allocations that we are not planning to use in the future.
Over the next 6 months, the total maximum supply of $LMWR will be reduced from 938,045,267 $LMWR to 773,045,267 $LMWR, representing a 17.5% decrease of the total supply of LimeWire tokens.
Burn Allocations
Artist Fund - 130M $LMWR
No tokens from our 130M artist fund allocation have been given out so far and since LimeWire recently placed a big focus on AI-generated content, we do not anticipate a need for this token pool in the future. We will therefore burn the entire allocation over the coming 6 months.
Potential future artist partnerships that involve token grants will be compensated directly from our treasury allocation.
Advisory Pool - 35M $LMWR
Out of 40 million $LMWR originally allocated to our advisory pool, only about 3 million tokens have been allocated to our advisors. We are holding back 2 million $LMWR for potential future LimeWire advisors and will burn the remaining 35 million tokens.
Burn Schedule
We are planning to burn a total of 165 million tokens over the coming 6 months, representing about 17.5% of the total supply of $LMWR.
1st burn event: November 15th, 2023 (Completed)
Advisory Pool: 5,833,333 $LMWR to burn
Artist Fund: 21,666,666 $LMWR to burn
Total to burn: 27,500,000 $LMWR
---
2nd burn event: December 15th, 2023 (Pending)
Advisory Pool: 5,833,333 $LMWR to burn
Artist Fund: 21,666,666 $LMWR to burn
Total to burn: 27,500,000 $LMWR
---
3rd burn event: January 15th, 2024 (Pending)
Advisory Pool: 5,833,333 $LMWR to burn
Artist Fund: 21,666,666 $LMWR to burn
Total to burn: 27,500,000 $LMWR
---
4th burn event: February 15th, 2024 (Pending)
Advisory Pool: 5,833,333 $LMWR to burn
Artist Fund: 21,666,666 $LMWR to burn
Total to burn: 27,500,000 $LMWR
---
5th burn event: March 15th, 2024 (Pending)
Advisory Pool: 5,833,333 $LMWR to burn
Artist Fund: 21,666,666 $LMWR to burn
Total to burn: 27,500,000 $LMWR
---
6th burn event: April 15th, 2024 (Pending)
Advisory Pool: 5,833,333 $LMWR to burn
Artist Fund: 21,666,666 $LMWR to burn
Total to burn: 27,500,000 $LMWR