10 Best AI Voice Generators in 2023
In search of that signature voice for your videos? These AI text-to-speech voice-over generators can help.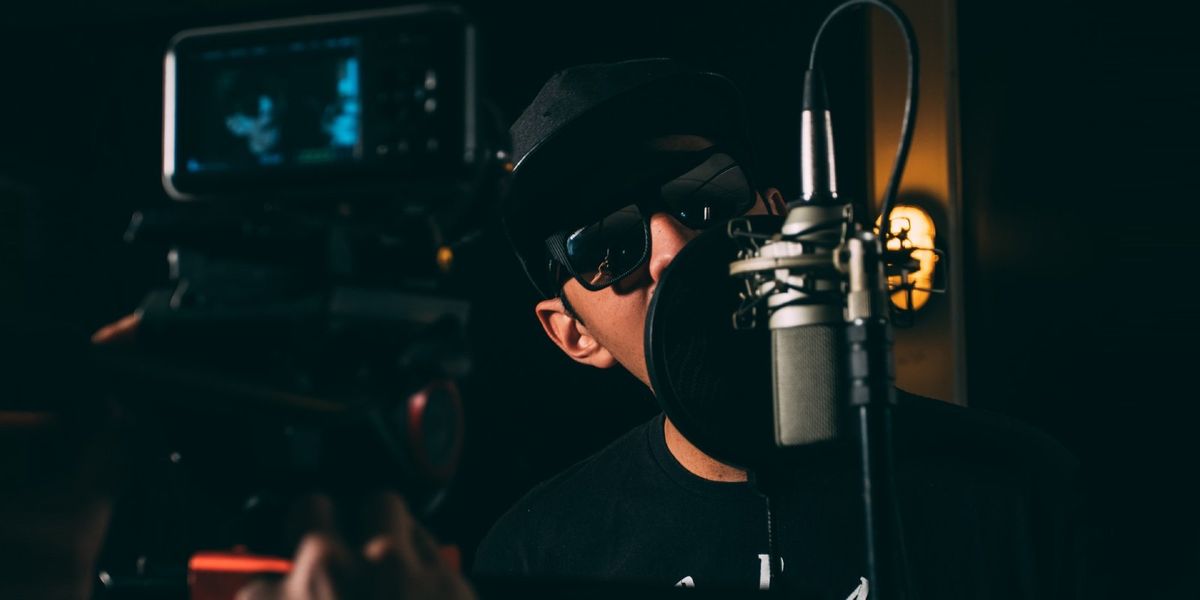 As a content creator, you often need a good voice-over artist to accompany your videos. If you haven't found one yet or can't afford one, there's good news for you. Enter AI voice generators! These innovative AI tools can convert your text to human-like speech in one click.
So, without wasting any time, let's explore the ten best AI voice generators in 2023 and try to figure out which one is the most suitable for you.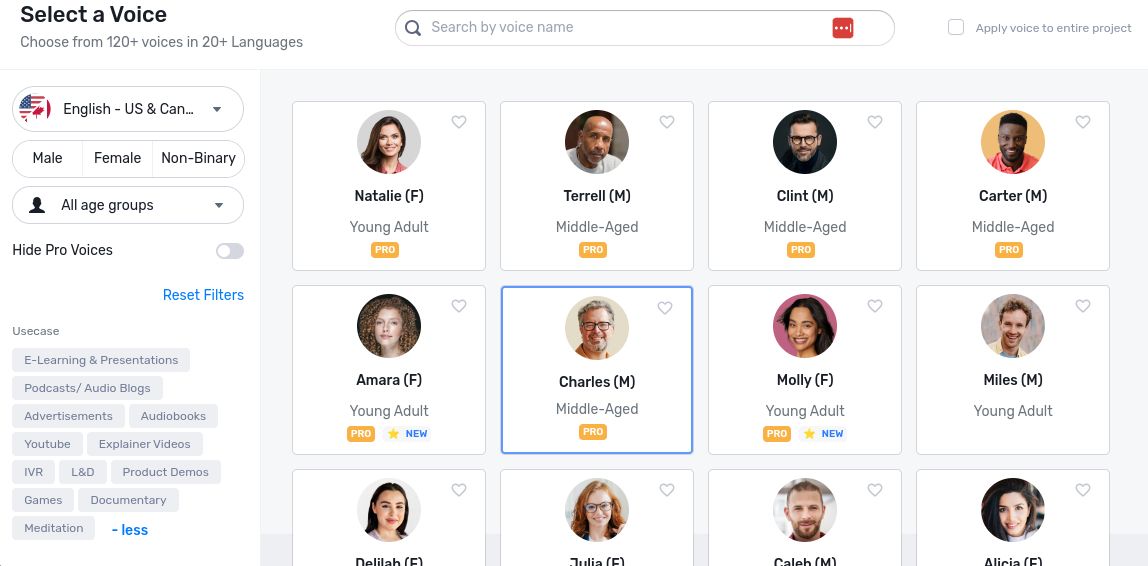 To kick off the list, we have Murf, which is easily among the top AI text-to-voice generators available today. The voiceovers you can produce with Murf sound shockingly real, with human-like intonation and rhythm.
Besides, the natural-sounding speech it generates isn't its only selling point—you get over 120 voices that you can use for free. And, with a paid subscription, you can add more than 20 languages to the mix, expanding its versatility exponentially.
When selecting voices, you can filter them by accents, genders, and age groups. The number of choices you get can be overwhelming and might require a lot of hit and trial to find the right voice for your project. Additionally, it lets you select a use case, like an ad or podcast, to set the tone for the voiceover.
The free version of Murf is good for testing purposes only because there are limitations like a lack of ability to download the content and only 10 minutes of voice generation. If you want to use it for bigger projects, you'll have to go for a premium subscription with more flexibility and options.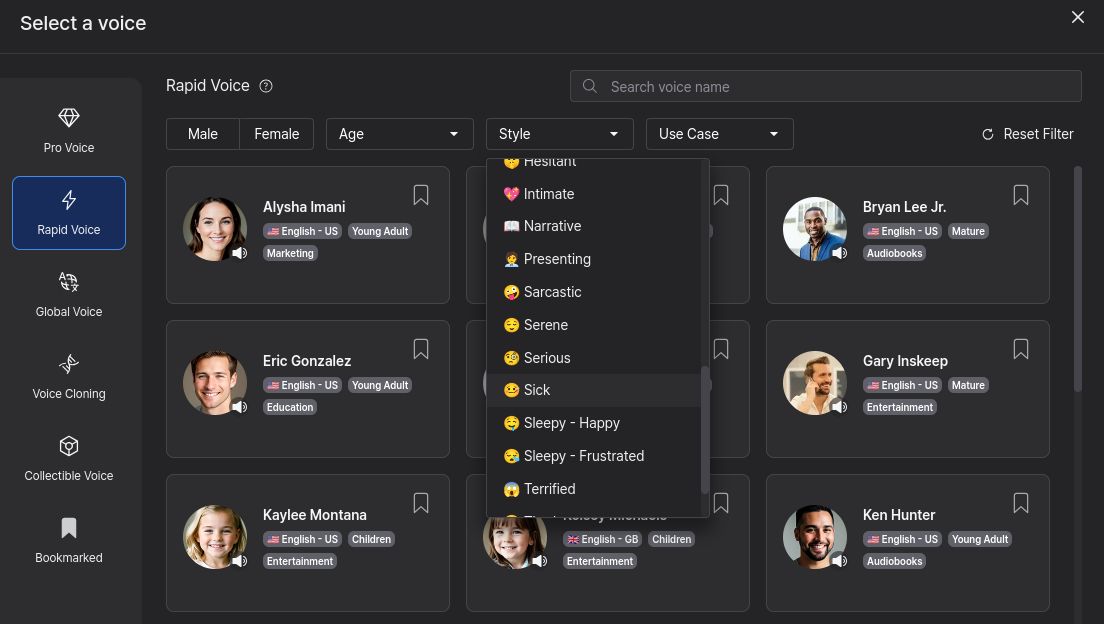 Genny by Lovo is a powerful AI text-to-speech voice-over generator that caters to both beginner and advanced users. When you sign up and go to its main interface, it asks whether you'd like to keep things simple or want advanced options. Do note that it's a paid tool with a 14-day limited trial.
If you were fascinated by Murf, you'd be blown away by Genny! You get tons of English voices in different accents and over 100 voices in other languages. You can filter the voices just like you'd do in Murf, but there's an additional filter that lets you assign a style, like admiration or sarcasm, to your voiceover.
To add to its amazing set of abilities, it also lets you clone your own voice or someone else's to generate personalized AI voiceovers. Voice cloning is basically training the AI to mimic a specific voice and using it for voice-overs without needing that person to utter a single word physically.
Now, the fun part. The options mentioned above are just the ones included in its "simple" version! If you go for the advanced interface, you can do a lot, a lot more with it. And, if you still don't like the sound quality, you can use AI audio enhancer tools to make it clear and crisp.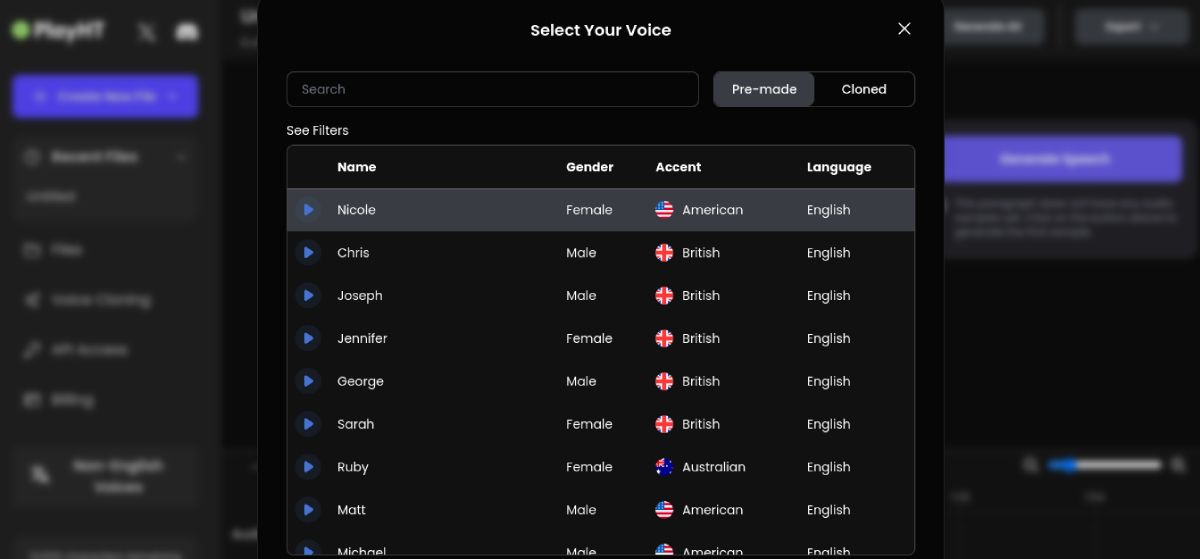 PlayHT is similar in terms of features to Genny, offering a great toolset for creating human-like realistic voice-overs. Its free plan is slightly more flexible than the first two tools, but you'll still need a premium subscription to get any serious work done with it.
The main editor interface is simple, with a limited number of English voices in different accents. You can also clone your own voice like you could in Genny. But that's not it.
The real magic happens when you click on "Non-English Voices" in the left sidebar. It takes you to PlayHT's old editor, which has hundreds of voices in different languages and accents. In terms of sheer number, PlayHT is in a league of its own, overwhelming you with tons of choices.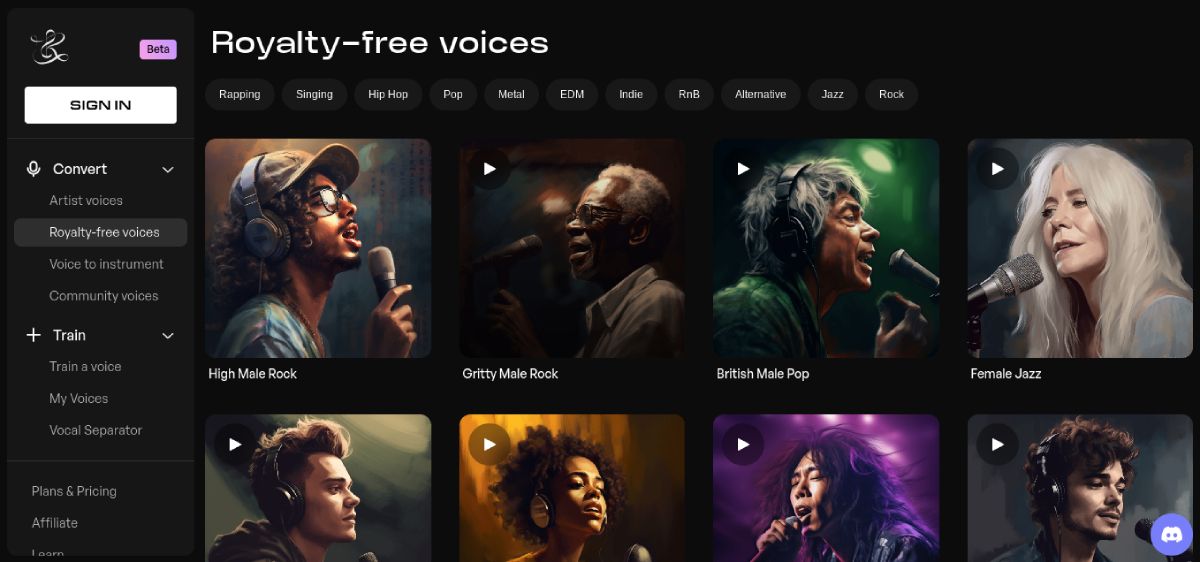 Kits targets a different audience than the other tools on this list. It's one of the best AI singing voice generators out there, which is essentially a type of voice, so we have to include it here. Kits can open up many possibilities when it comes to music production.
You have three main options related to voices: artist voices, royalty-free voices, and voice cloning. The first option lets you use the voice of your favorite artists to sing your lyrics. However, there ain't many voices in this section at the moment for obvious copyright reasons.
There are some singing voices in different genres if you go to the royalty-free voices section. But the real highlight of Kits is its voice cloning feature, where you can make your own voice sing in tune by training the AI. It copies your voice and gives you singing skills!
The free plan offers enough for casual use. If you like it, you can always upgrade to one of its premium subscriptions for added functionality.
If you want to try your hand at music production, there are great AI music generators that you should check out. And once your song is ready, you'll need an AI music enhancer tool to refine its sound.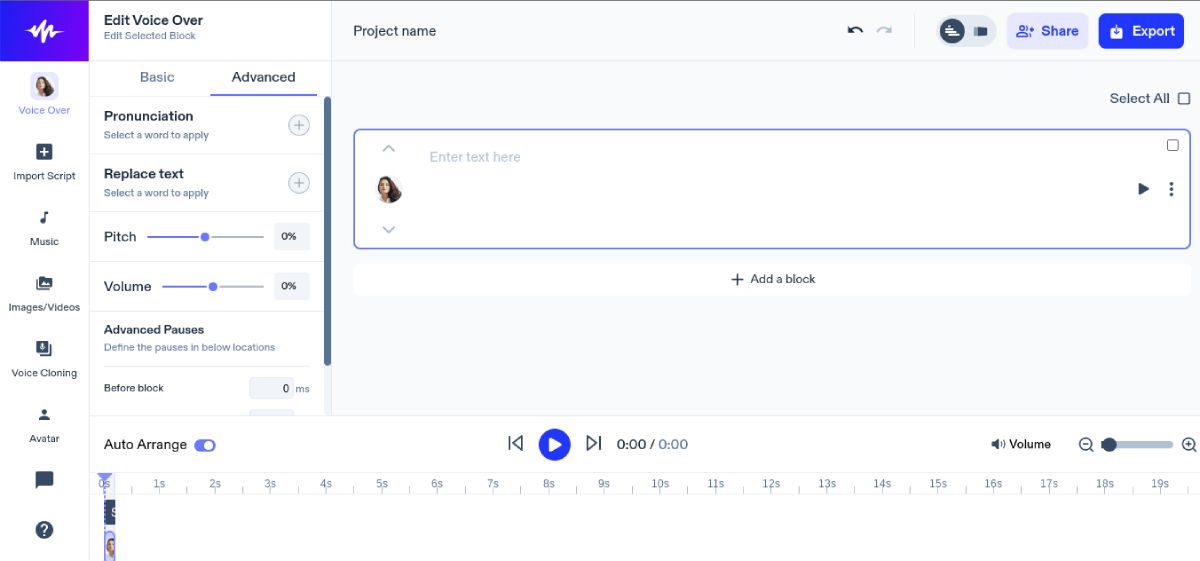 Speechify offers a text-to-speech reader and an AI voiceover generator. Both of these tools have over 200 voices you can choose from.
The voice-over tool is completely free to try, but you can't download the content you generate with it. For that, and a lot of other added features, you'll need a premium subscription.
Speechify lets you customize each voice to a great deal. When you click on a voice you like, you get a bunch of basic and advanced parameters to personalize the voice according to your requirements. These parameters include things like pronunciation, pitch, and pauses, among other options. In addition to the stock voices, you have the option to clone your or someone else's voice, like in Genny and PlayHT.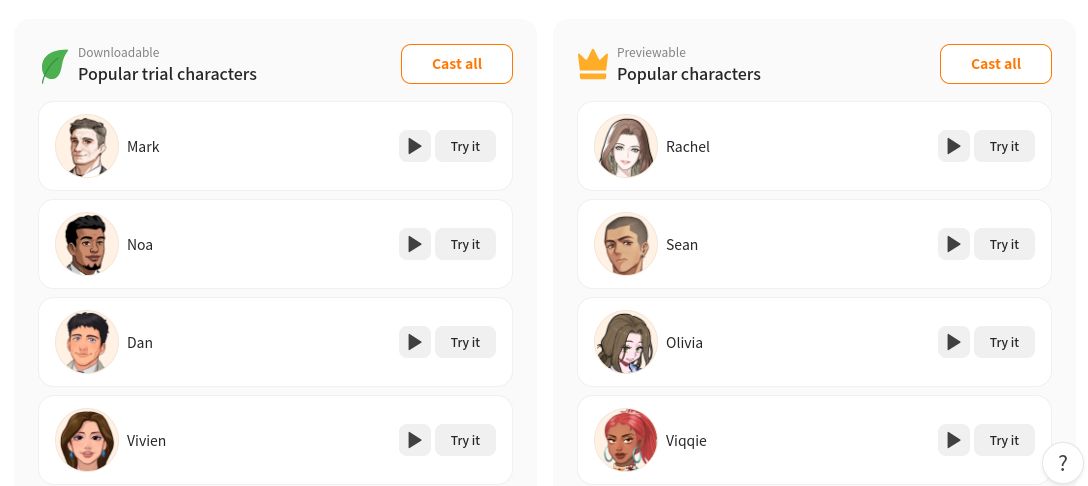 Typecast is another versatile tool for generating AI voices. Here, the voices are called characters, and each character has its own style and tone. The emotion in the speech of different characters is unique, so try a few before settling on a voice for your project.
You're not short of choices, either. Typecast offers over 400 characters to choose from. What's limiting is its free plan, which is only useful for trying the tool, leaving you with premium plans for getting any serious work done.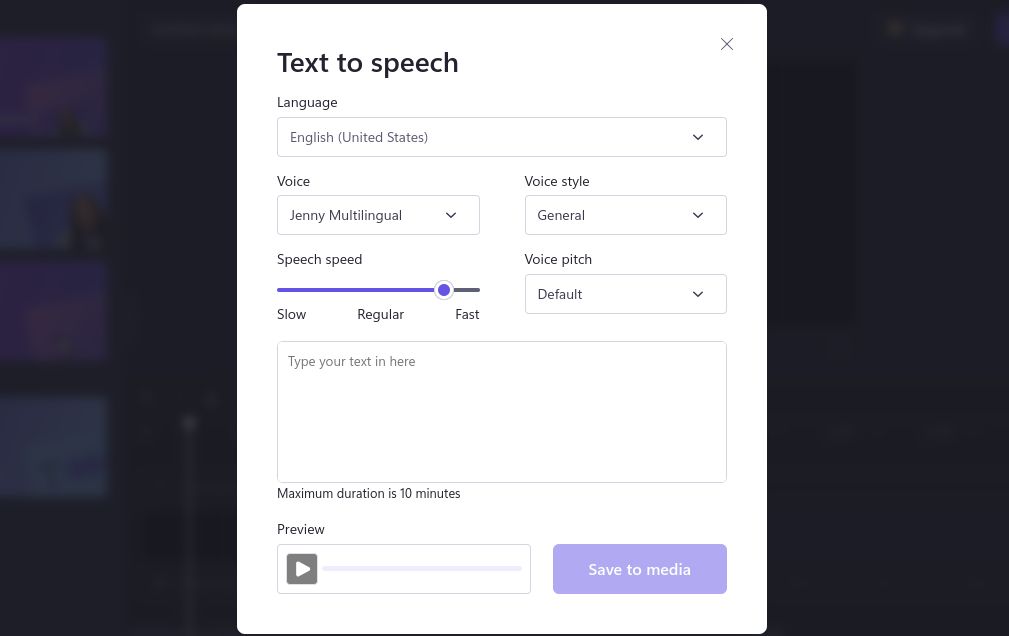 Clipchamp is a free video editor by none other than Microsoft itself. This tool has a bunch of AI-powered options, one of which is its AI text-to-speech voiceover feature. It's a completely free AI voice generator with a solid feature set.
The option itself is slightly hidden within the video editor interface. You can get to it by creating a project and then clicking on "Record & Create" in the left sidebar and then "Text to Speech."
It offers over 400 natural-sounding voices in 170 languages. Additionally, you can set the style, pitch, and speech speed of the voice to your liking. Not bad for a free tool, ain't it? Combine this with its video-editing abilities, and you have a complete video creation tool at your disposal for free!
Honorary Mentions
A paid AI voice generator worth checking out for businesses and enterprises.
It's a great tool for creating custom voices and has a generous free plan as well.
It's a paid multilanguage AI voice generator that offers a complete content production suite of tools.
Make Money With Your AI-Generated Content
Now, you can monetize your AI-generated media (image, audio, or video) by sharing it on LimeWire. We offer an ad-revenue sharing model and a subscription platform to earn money from your content.
In addition to that, we facilitate you in your creative endeavors with our in-house LimeWire AI Studio, which you can use to generate AI images, audio, and videos. Here are some common questions related to becoming a creator on LimeWire. Feel free to reach out if you have any questions.