Announcing LimeWire AI Studio in Collaboration with Polygon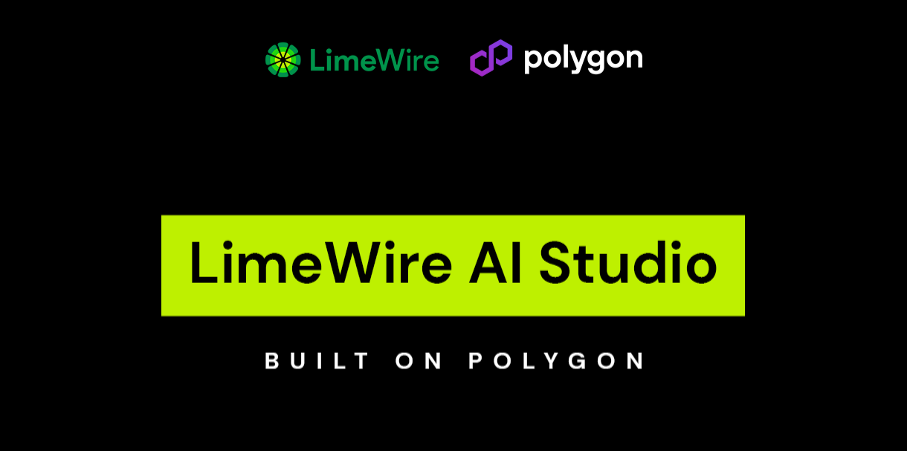 We're thrilled to announce that we have teamed up with Polygon to launch the world's first blockchain based AI Creator Studio: the LimeWire AI Studio.
Through the Studio, we are aiming to revolutionize the creative space by democratizing access to advanced AI tools and bringing them to the blockchain - all with the ease of a Web2 platform.
The Studio is already live with 5+ powerful AI image generation models, exclusively on https://limewire.com/studio/
Empowering everyone to become a Creator
The LimeWire AI Studio's mission is to empower anyone to become a content creator. As of last week, users can create AI generated images, followed by music and video capabilities later this year.
All content will be automatically minted either on Polygon - our main blockchain partner for the AI Studio - or on Algorand, thus following our multichain vision. Generation is accessed with credits or by subscribing to a LimeWire plan.
Roadmap: Images, Videos, Music and automated Creator Earnings
We will continuously add new models and content types to the Studio, with music generation next and video to follow. With the long term goal of allowing anyone to create full music tracks with the power of AI, our vision is an all-encompassing suite of creative tools for users to explore and experiment with.
To further empower creators with additional monetization opportunities, we're also building a library of licensed content for use in the Studio. Musicians and artists can upload their work to the library and earn a revenue share when it's used to generate new content, with automated earnings split between library contributors and content generators on the LimeWire platform.
How does the LimeWire token ($LMWR)  fit in?
LMWR will play an integral part in the AI Studio, ranging from free studio credits for token holders to automated ad revenue payouts in LMWR. Expect use cases like daily creator competitions and beta access to upcoming features and models.
As a first major step, we will integrate a flow to allow users to pay for their AI Studio credits and subscriptions in LMWR.
To keep things simple, there will be 2 routes:
Users can send LMWR to their LimeWire wallet and pay from their wallet
Users can use their credit card to automatically buy LMWR on the LimeWire platform and use these LMWR tokens to pay for their subscription

Prices via LMWR will be discounted, marking it a key utility piece of the LimeWire Token.
Try It Now!
Whether you're an artist, a musician, or a storyteller, the LimeWire AI Studio welcomes you to join the revolution and contribute to the boundless world of blockchain-powered content creation.
Visit the LimeWire AI Studio today: https://limewire.com/studio/