10 Best AI Music Generators in 2023
No music-making experience? Here are some of the best AI music-generating tools that require little to no prior knowledge or skill.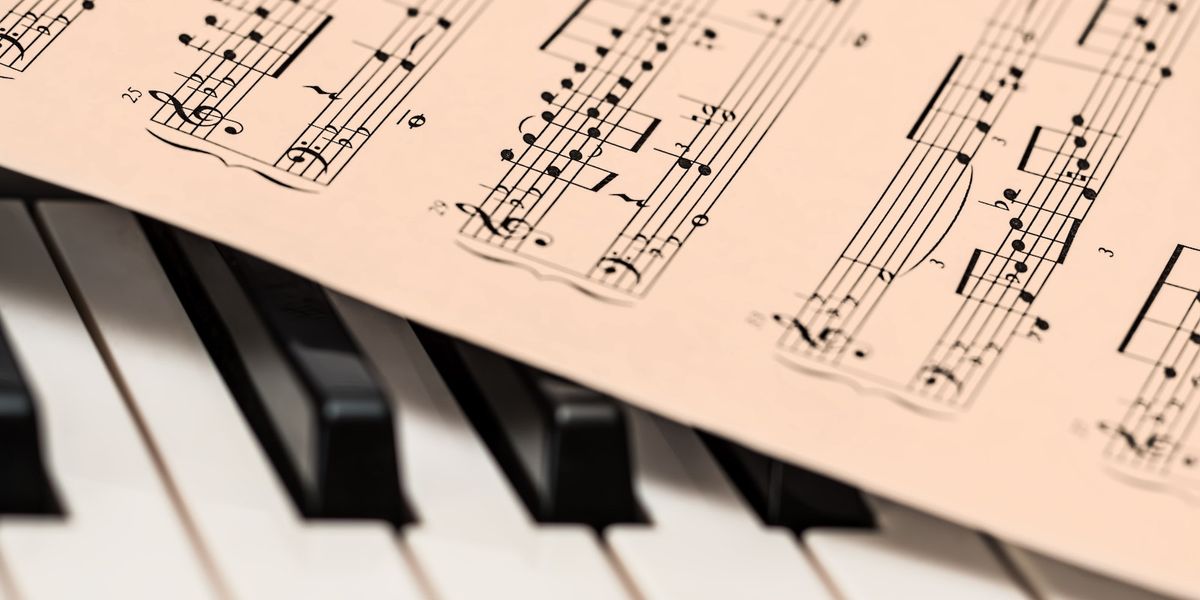 Artificial intelligence (AI) is rapidly transforming many industries, and music is no exception. AI music generators can create original music in a variety of genres, from classical to pop to electronic. You can also use these apps to modify existing music or to create sound effects.
AI music generators are still in their early stages of development, but they've already had a major impact on the music industry. Musicians, producers, filmmakers, videographers, and businesses are all experimenting with these tools at some level.
Interested in creating AI-generated music? Here are some of the best AI music generators available in 2023 so far.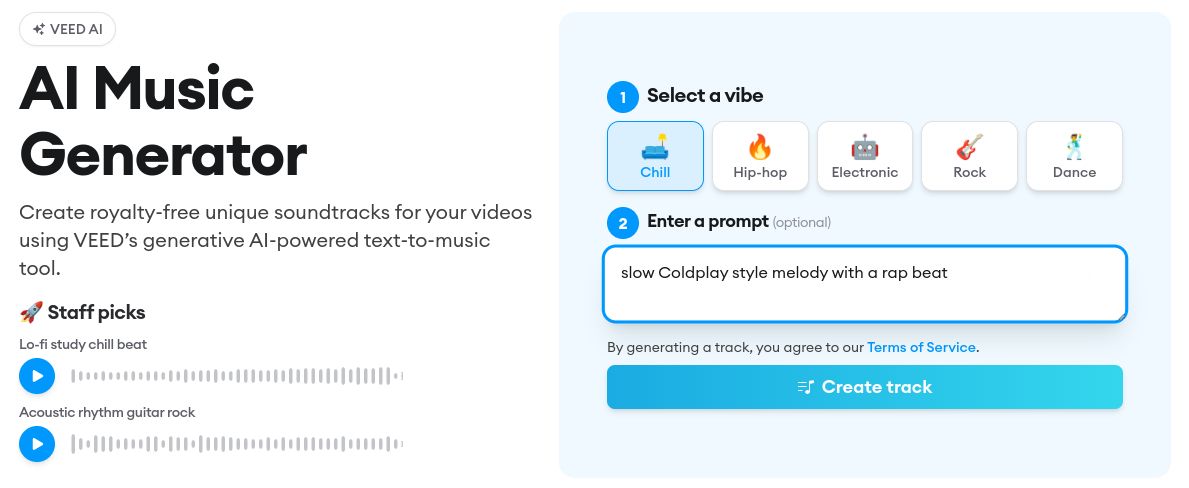 Let's start off the list with one of the best free text-to-music generators that is extremely simple to use. You might've heard of VEED as a complete video editing suite. This company has embraced and integrated AI into its products pretty effectively.
Using VEED's AI music generator is easy. Just select a "Vibe" for your track and write a detailed prompt to describe what kind of music you want to generate. After that, simply click "Create Track" to produce some cool, royalty-free music.
VEED is ideal for creating AI-generated background music for your YouTube or Instagram videos. These are 20-second tracks that you can play on a loop in the background.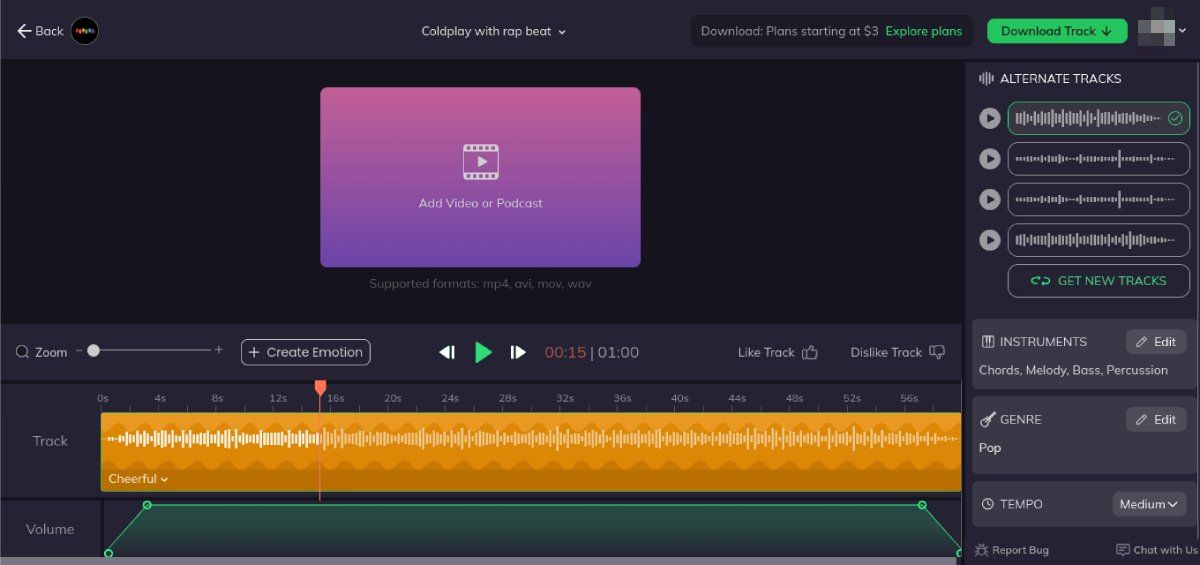 Beatoven is one of the best-paid AI music generators and a DAW-like composition tool for creating royalty-free music. It also offers a free trial that lets you test its features to evaluate if it's worth the monthly subscription.
Beatoven's features cater to both beginners and advanced users. To get started, simply enter a title for your track. This title acts as a prompt, so you'll have to describe it properly to get the desired results. However, don't worry if you don't get the title right the first time around; it lets you edit it later.
In addition, it offers a bunch of useful customizations like changing the instruments, genre, and tempo, along with other parameters, to make the track yours by finetuning it. You also get alternate tracks for the same prompt, giving you more options to play with.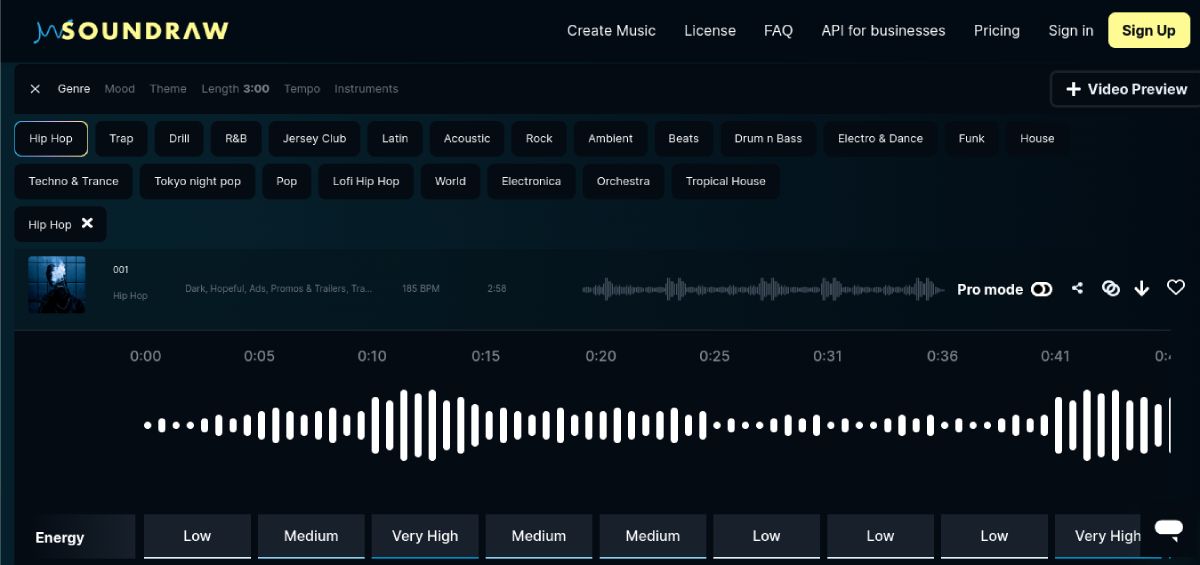 SOUNDRAW is a partially free AI music generation tool that lets you create unlimited songs in its free version. However, you need a subscription to download that royalty-free music to use in your projects.
SOUNDRAW offers a large library of genres, moods, and themes for your soundtrack. Additionally, you can set the tempo to your liking, specify the length of the song, and choose the instruments to be played in the track.
The music generator takes you through the process step-by-step, where you can apply a combination of genres, moods, and themes to create multiple songs to choose from. You can further edit each track using beginner and advanced parameters, depending on your skill level.
Boomy is another partially free AI-powered music-making platform that allows you to create your own original songs with minimal effort. It is designed for both novice and experienced musicians, offering a range of features that simplify the process of music making.
To create a song, you first have to select a style and a base track. Once you've selected those, simply click on "Create Song" for it to start composing. And that's not all; you can further edit various aspects of the song to personalize it fully. It's also an AI music generator with vocals added to the songs.
Boomy also lets you collaborate with other musicians, helping you get feedback on your music and learn new techniques. And once your track is ready, you can download or release it with Boomy's paid subscription.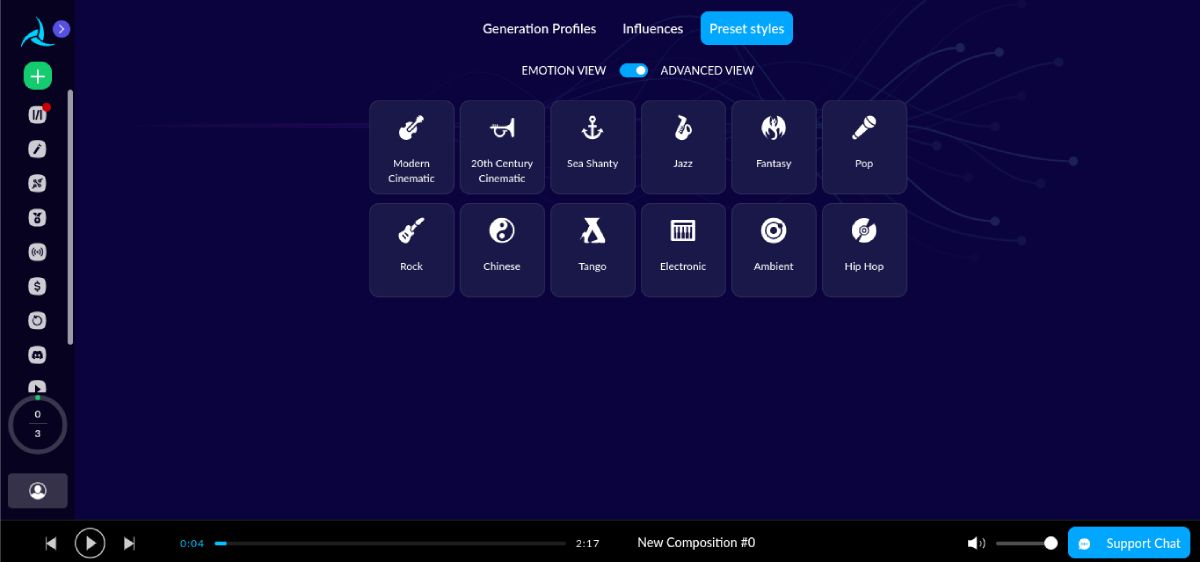 If you're looking for versatility and a range of options, AIVA is one of the best AI music generators you'll come across. It has a free and a standard version, which are both slightly limited in terms of transferring the copyrights over to you. However, if you like the tool, the pro version might be worth going for, as it gives you complete copyrights.
To generate music with AIVA, you have three options: choose a generation profile (a sample base track) from the list, add your own audio file to use as an inspiration or select a style preset. In the next step, you can tinker with more customization parameters to specify the feel of your song before finally creating it. Even after that, it lets you further edit your created composition.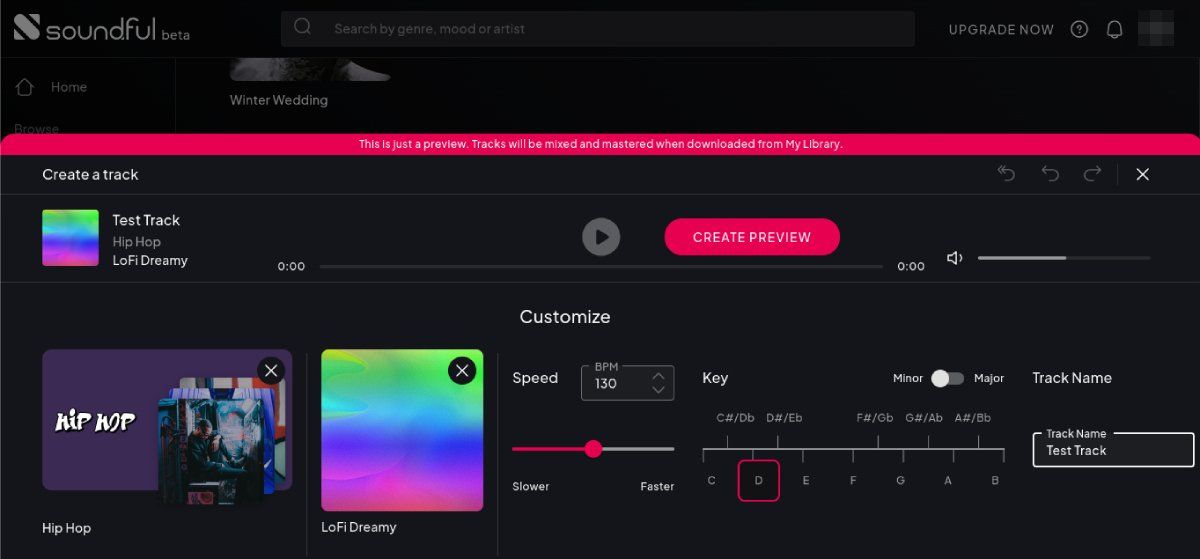 Soundful offers a solid free plan for testing the tool before going for a paid subscription. You do get some free downloads in the free plan, but you can't use that music for commercial use.
To create music, you have to select a template first. The ones without a crown on them are free. To select a template and generate some music, you have to click on the pink circle icon with waves in the center.
It opens a pop-up window (as in the screenshot) where you can set the desired parameters and generate previews. It lets you regenerate the preview if you don't like it or save it if you do. Once saved, the track is available for download in your library.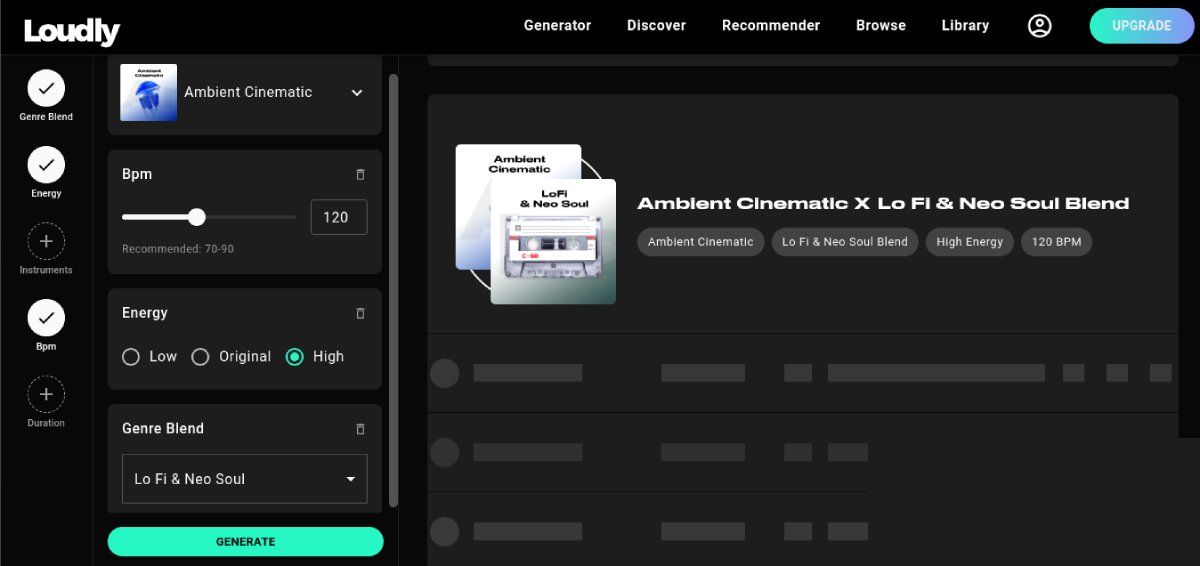 Loudly is among the top AI music generators with a generous free plan. The number of downloads is limited, but you can use that music for your social media projects freely. In addition, like Boomy, Loudly also offers collaboration tools to work on projects with other users.
You can generate music with Loudly even if you're a complete beginner. However, you need to have some skills to utilize it to its full potential.
The easiest way to produce music with Loudly is to select a genre and hit "Generate." If you want, you can add more editable elements to the mix, such as genre blends, energy levels, instruments, tempo, and duration. It generates multiple tracks each time to give you ample options to choose from.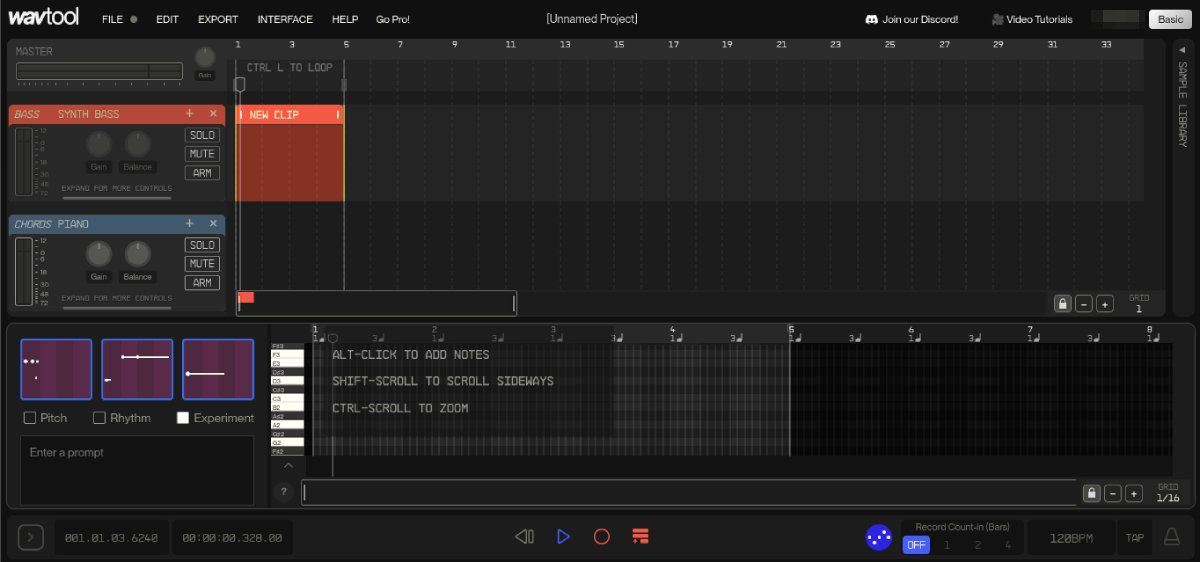 WavTool is a cloud-based AI-powered digital audio workstation (DAW) that allows you to create, produce, and mix music entirely in your browser. This tool is not suitable for beginners, though, because you need to have some knowledge of DAWs to operate it optimally.
To put it simply, you need to add instruments to your track and then add AI-generated clips of music for those instruments. You can customize the clips in the "Composer" tab by tinkering with the given parameters or entering a prompt.
Once you repeat this process for all of the instruments you want to use, your track should be ready. There's a lot more to be explored in WavTool, and luckily, the developers offer video tutorials in the help section to get you started on your music-making journey.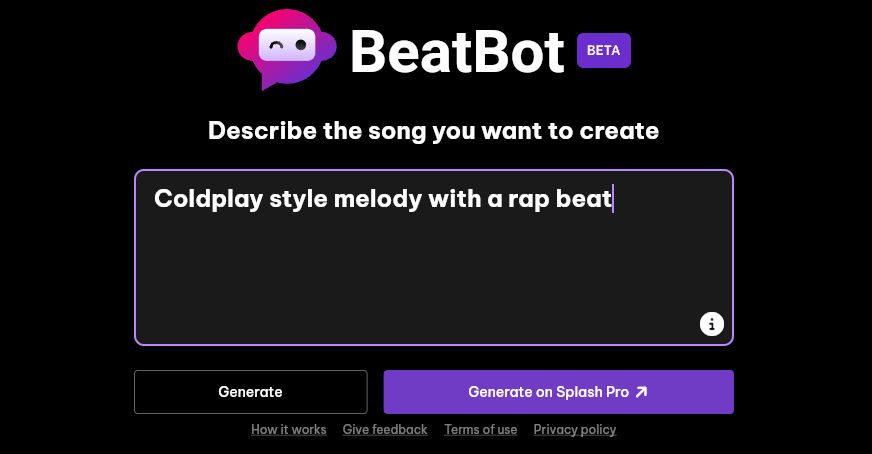 BeatBot is a minimal AI music generator from text that composes short songs based on your prompts. It uses Splash sound loops to create the music and vocals and ChatGPT to write the lyrics. BeatBot is currently in its beta phase and is a completely free AI music generator.
If you want a similar functionality but with advanced options, you might want to go for Splash Pro. This tool produces longer tracks and offers some customization options as well.

And last, but by no means the least, on our list is Mubert, which is a pioneer in the AI-enabled music space, and its technology is used by creators and brands all over the world. Its free version puts considerable limitations on the usage of the music you generate, but it's enough for testing its capabilities.
The options you get for creating soundtracks are similar to the ones we've discussed so far; that is, you enter a prompt or select a style and assign a duration before hitting "Generate Track" to produce music. If you like the sound it creates, you can always go for its premium version to unlock complete features.
Make Money With Your AI-Generated Music
Now, you can monetize your AI-generated music by posting it on LimeWire. You can take advantage of our ad-revenue sharing model and the subscription platform to earn money from your music.
Additionally, you get our in-house LimeWire AI Studio that lets you unleash your creativity and share your masterpieces with the world. Here are some common questions related to becoming a creator on LimeWire that you might have.