8 Best AI Singing Voice Generators in 2023
Want to make music but can't sing? Check out these AI tools for generating singing voices to accompany your music.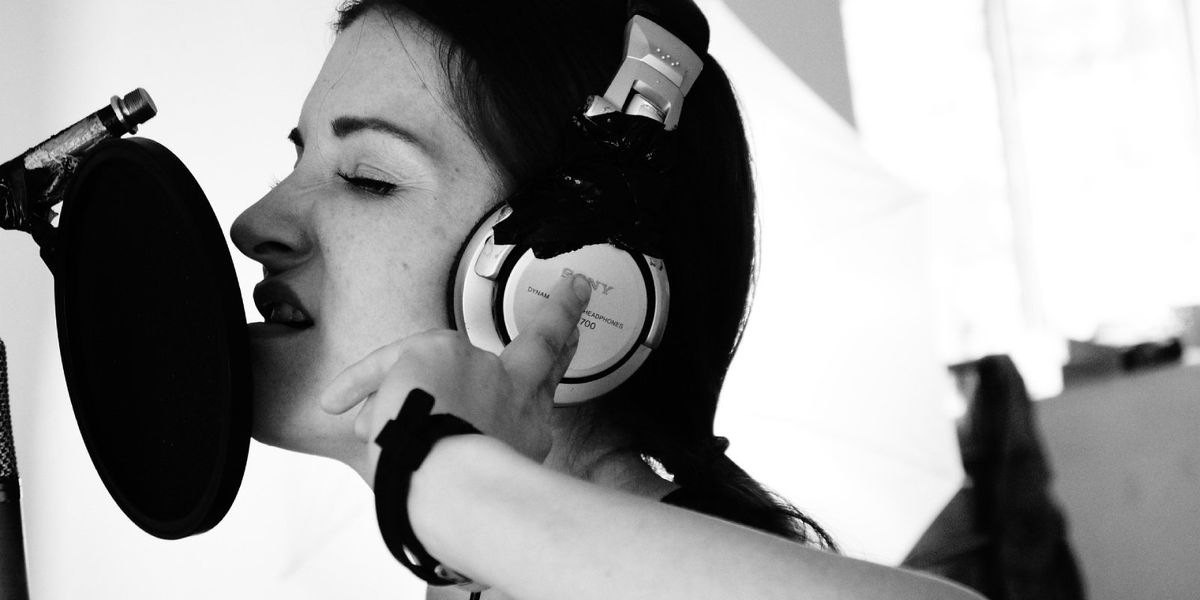 AI-powered content creation is taking the music world by storm. From AI music generators to AI music enhancer tools for musicians to AI audio enhancer tools for podcasters, you can now automate almost every task in your music production process. On top of that, you can even generate singing voices using AI to accompany your soundtracks.
But which of these AI voice tools are worth your time and money? Here are eight of the best AI singing voice generators in 2023 so far.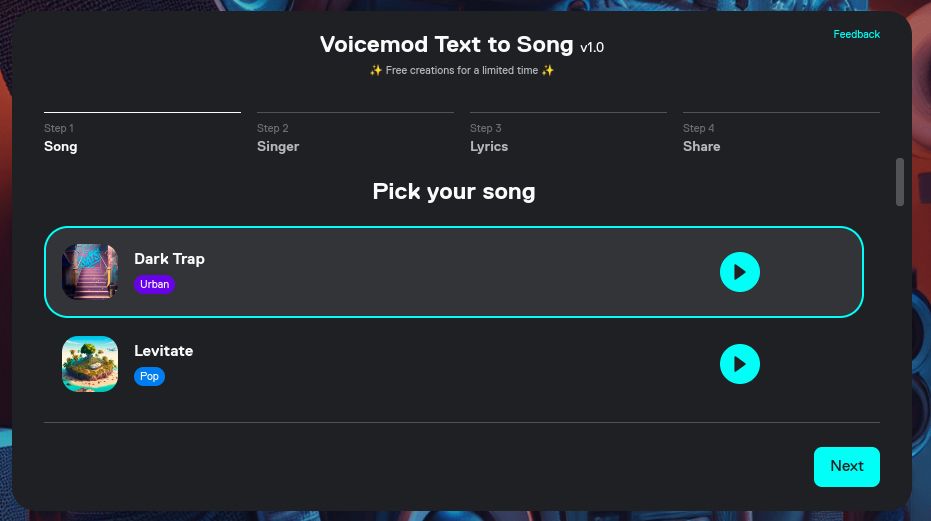 Let's kick off the list with a completely free AI singing voice generator. Voicemod is simple—it converts text to singing voice with very little effort required on your part.
All you have to do is follow its step-by-step guide to produce a personalized result. First up, you choose a base song that acts kind of like the theme of the generated voice. Here, you get songs from different genres, giving you some decent theming options to choose from.
Next up, you'll need to select a voice. You can listen to the preview of each voice to see if it's suitable for your needs. After that, in the last step, you enter the lyrics for the song and simply hit "Create Song."
And that's it! You'll now get your AI-generated song that you can listen to with or without music. You can edit the lyrics if you think it requires tweaking, and once the song is ready, just click the "Download" button to get the file in MP3 format.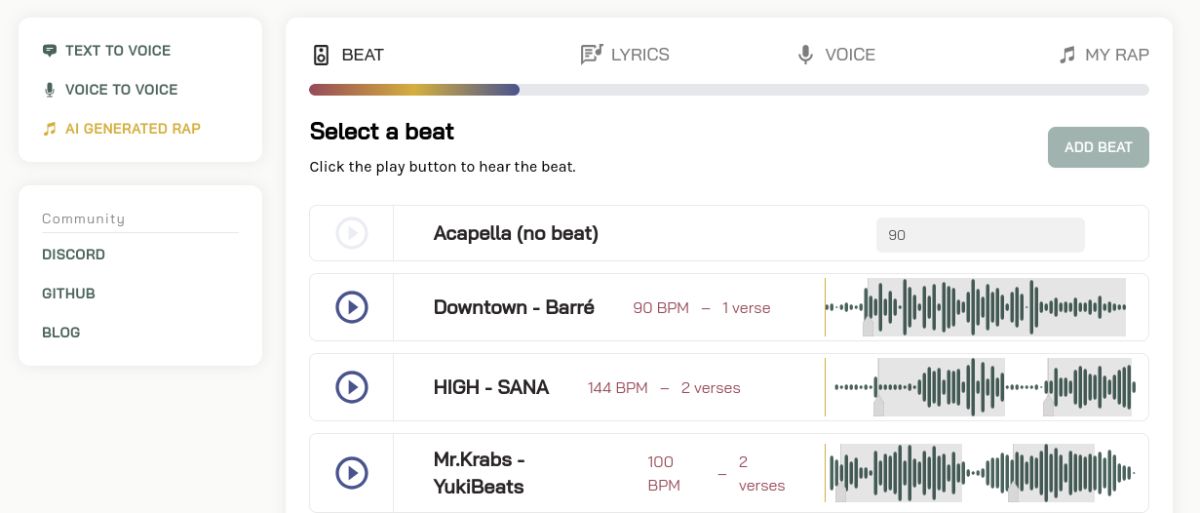 Uberduck is easily one of the best AI rap-singing voice generators out there at the moment. We say that because of its versatility owing to three powerful tools: Text to Voice, Voice to Voice, and AI-Generated Rap.
In Text to Voice, you can filter the rap voices in the "Style" dropdown menu. This gives you a bunch of rap-related options to choose from. Select one and enter your text at the bottom to generate a voice-only rap song.
The second option, Voice to Voice, is great if you're comfortable recording your own voice for Uberduck to convert into a different pitch and tone out of its many options. It's an AI voice cloning tool, to be exact. However, in the case of songs, you'll need some singing skills to make full use of this tool.
The third tool, AI-Generated Rap, works somewhat similar to Voicemod; that is, you choose a beat (or create a beatless voice-only acapella), enter your lyrics, and assign it a voice that you like. And voila! You'll have your rap song ready within a few clicks.
Uberduck has a generous free version that you can use for non-commercial projects. However, for commercial use and advanced features, you'll have to go for one of its two premium options.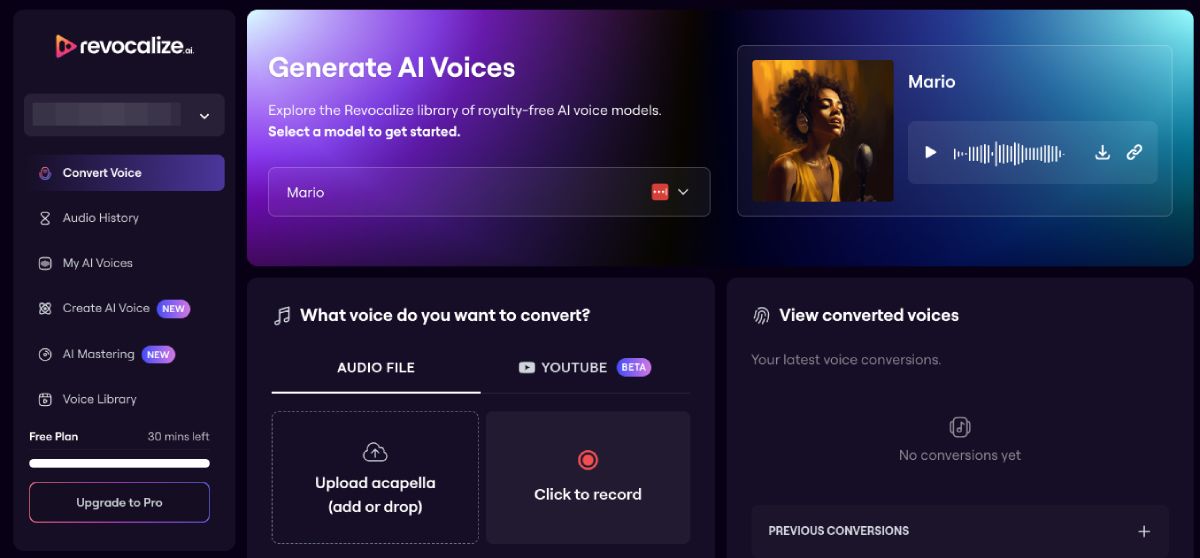 Revocalize AI is an advanced AI singing voice generator that is highly customizable if you explore all of its options. However, if you're looking for a simple text-to-singing voice generator, this tool is not for you.
Revocalize AI works by providing it with a voice to work its magic on. It's similar to the voice-to-voice tool Uberduck offers but with some solid additional features for advanced AI voice cloning.
To get started, go to "Convert Voice" and choose a voice model that you'd like to clone. You can train your own voice models as well. After that, upload or record your voice and adjust the advanced settings according to your requirements.
There are advanced settings for pre-processing effects, like removing the noise, and post-processing effects, like adding a chorus or reverb. However, if you're not a trained singer, the most important setting for you to turn on is "Auto-Tune," which will fix the mistakes you might've made while singing. Once everything's in place, hit the "Revocalize" button to convert your song into the voice you chose and with all the tweaks that you applied.
Revocalize AI's free plan has limited functionality, but it's enough to test its potential. If you like it, you can subscribe to one of the premium plans for added features.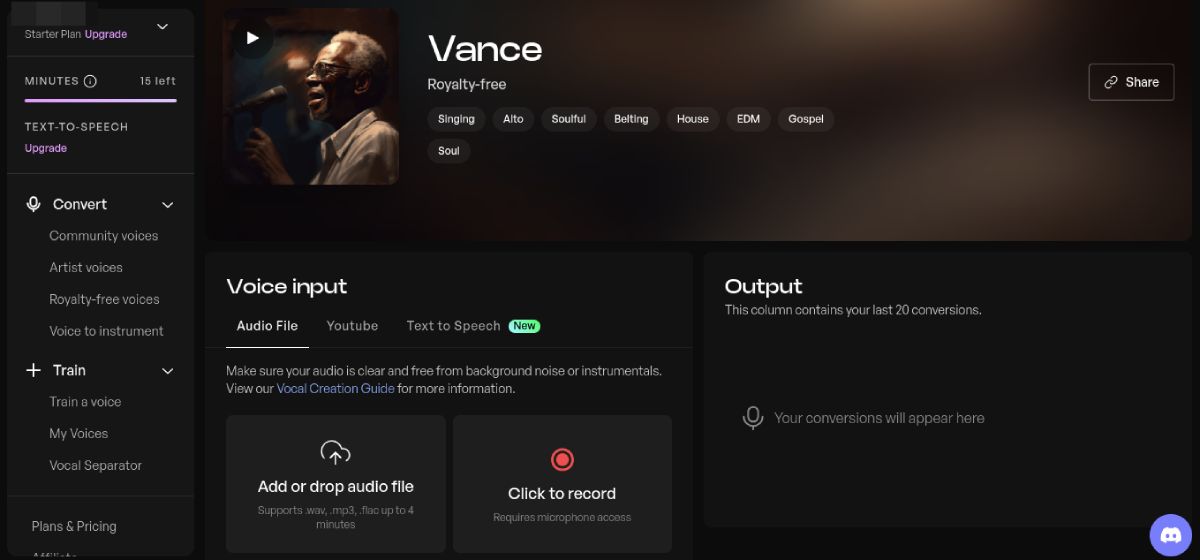 Kits is more like a combo of Voicemod and Revocalize AI, offering both text-to-singing voice and voice-to-voice cloning features. The text-to-voice functionality is locked behind a paywall, but you can test Kits' capabilities through the voice-to-voice tool.
There's a section where you can train a voice model, but if you don't want to go through that hassle, you can choose a model from the "Community Voices," "Artist Voices," or "Royalty-Free Voices." Once you've selected a model, add or record your voice and adjust the advanced settings to continue.
The advanced settings Kits offers are similar to those of Revocalize AI, except you don't get the "Auto-Tune" feature. This makes the voice-to-voice feature slightly difficult to use if you can't sing at all, and in that case, you'll have to go down the premium subscription route to activate text-to-singing.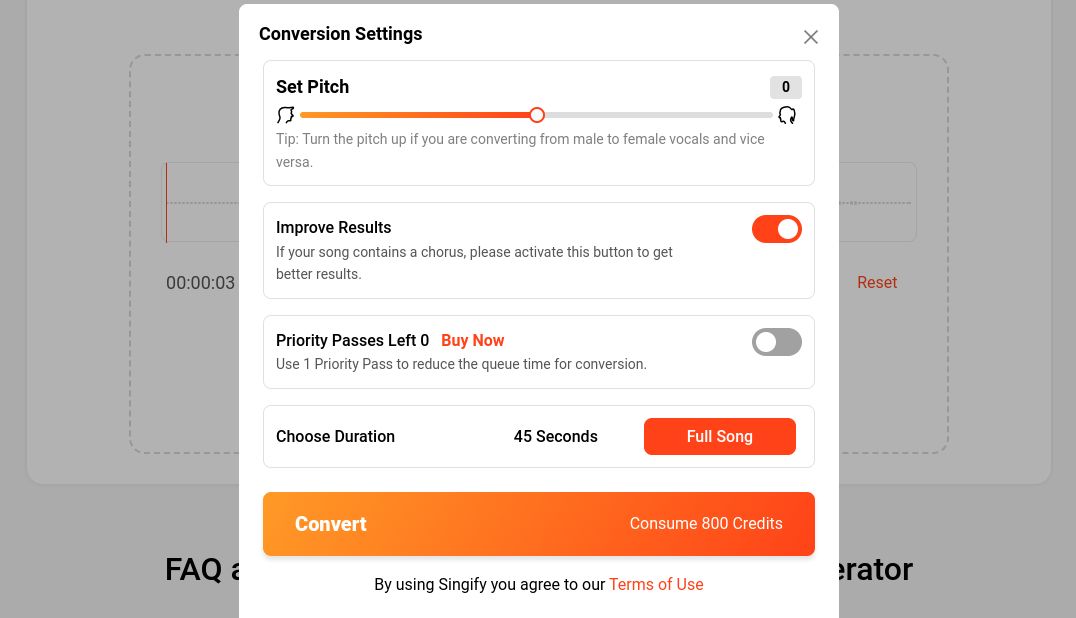 FineShare Singify works in a similar way to Uberduck's voice-to-voice AI cloning tool. However, the choice of AI models is simply massive in this one. You get almost all the popular artists' and celebrity voices that you can clone.
To get started, you choose an AI model, add your audio, and adjust some advanced settings to generate your AI singing voice. You can fine-tune the settings after listening to the result in order to personalize the voice fully.
FineShare Singify works with credits, and you only get limited credits for free. So, technically, it's a paid tool that offers both monthly and annual subscriptions and also a pay-as-you-go option.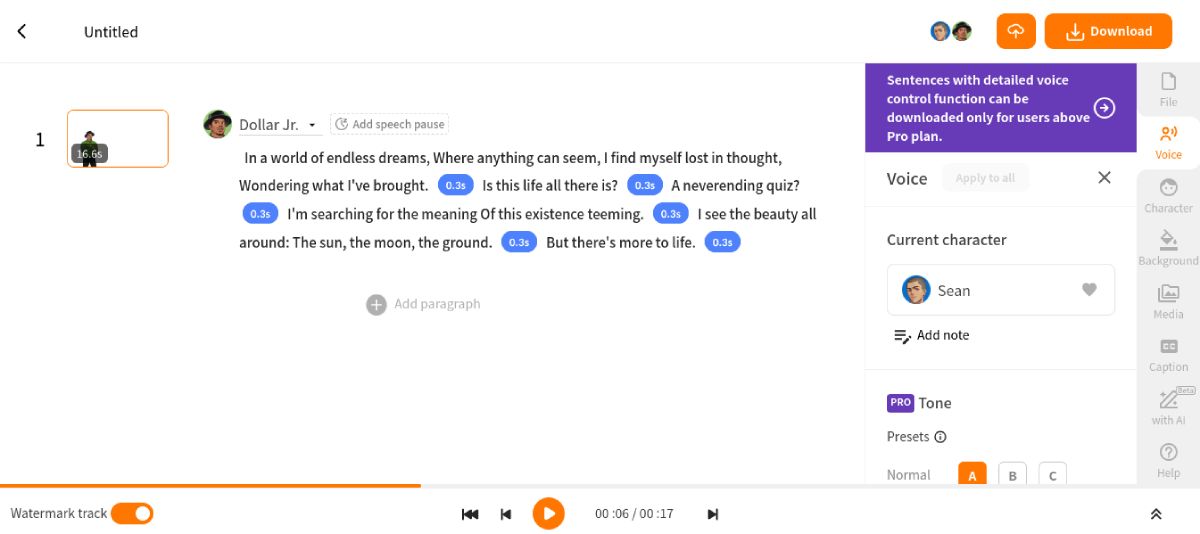 Typecast, like Uberduck, is another AI singing voice generator for creating rap songs from text. It's actually a very versatile AI voice generator, with rap songs being just one of its many facets.
To go straight to creating your next awesome rap, click on "Create New" and then "New Project" on your dashboard. Now, click on the current character and then "Add Characters." On the next page, scroll down the left sidebar and select "Music/Entertainment" under "Content."
After applying that filter, select the voice model of your choice, and it'll take you back to the previous page, where you can enter the lyrics for your song. Once everything's in place, hit the play button to preview your AI-generated rap song.
Typecast has a limited free plan for testing purposes. However, the real fun lies in its premium subscriptions by unlocking its full potential!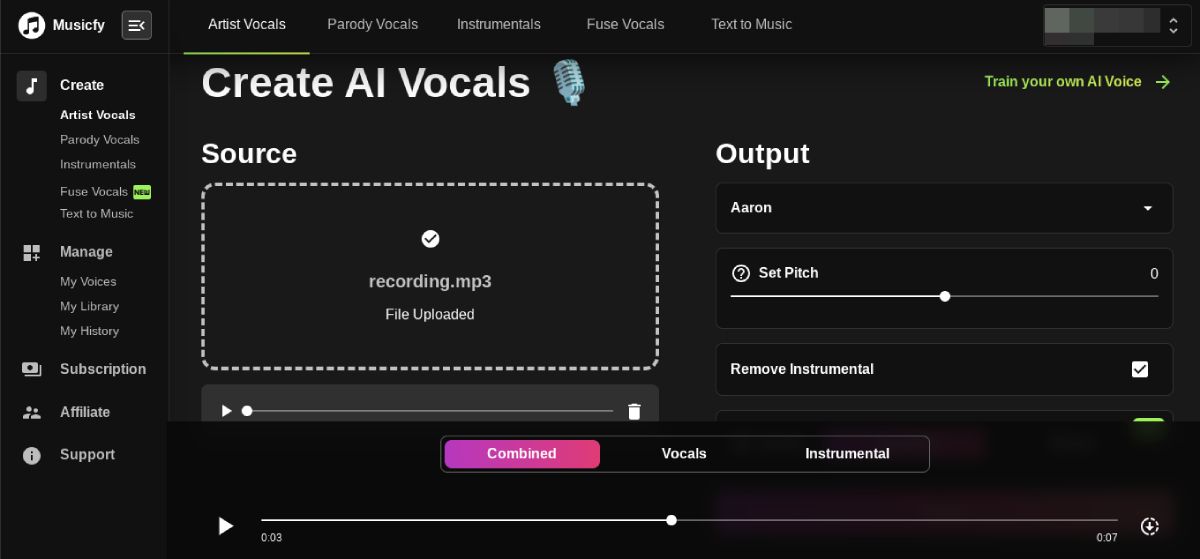 Musicfy is similar to Kits in terms of options. However, it has some unique features that set it apart from Kits.
The AI voice cloning feature works in the same way as what we've discussed in other tools so far. You can either clone an artist's voice or parody the voice of a famous character. But an interesting way of using Musicfy is to create a fused model of two different voices, giving you tons of more options to choose from.
Once you generate a song, you can download voice and music combined, just the music or just the voice. In addition to generating AI singing voices, the tool offers a great text-to-music generator for creating instrumentals, making it one of the best AI music production tools available.
Musicfy is free to try but requires a paid subscription to unlock its full functionality. So, it's actually a paid tool suitable only for serious users.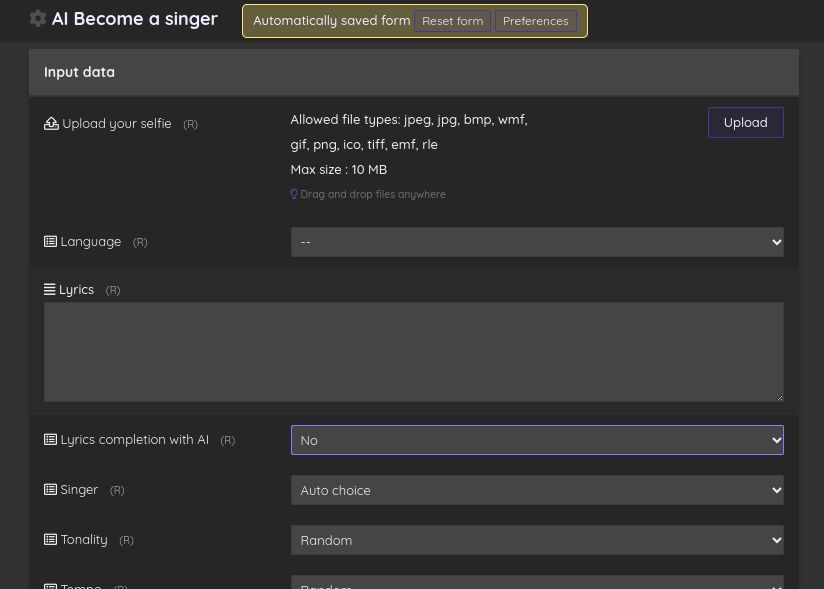 Melobytes is a slightly advanced AI-powered tool for generating singing voices. It offers plenty of control during the process so that you can fine-tune the voice according to your needs. In addition, you get a video of you singing the song because you have to upload your photo at the beginning.
To generate a song, fill out all the blank spaces, including the lyrics, and select the suitable options. You can even choose languages other than English for your songs. Once everything's in order, all you have to do is hit "Sing" for it to generate a song in an AI singing voice.
Melobytes offers a decent free plan so that you can evaluate its capabilities. For advanced features, you can choose from one of the three subscriptions it offers.
Make Money With Your AI-Generated Songs
You can monetize your AI-generated songs by posting them on LimeWire. You can do so with our ad-revenue sharing model or the subscription platform that helps you earn money from your music.
We also encourage you to explore our in-house LimeWire AI Studio, which is made for you to create and share your next chart-topper with the world. If you're unsure how and where to begin, check out some common questions about becoming a creator on LimeWire.