10 Best AI Audio Enhancer Tools for Podcasters
Not able to achieve that sweet, crisp sound in your podcasts? Try these AI audio enhancer tools to improve your sound quality.
If you're a podcaster, you know the importance of clear and crisp audio for your content. Unlike video creators, you rely solely on sound to communicate with your audience, and noisy or illegible audio can deter your listeners pretty quickly.
So, to help you achieve a top-notch sound, we bring ten of the best AI audio enhancer tools for podcasters that'll help you improve the whole listening experience for your subscribers.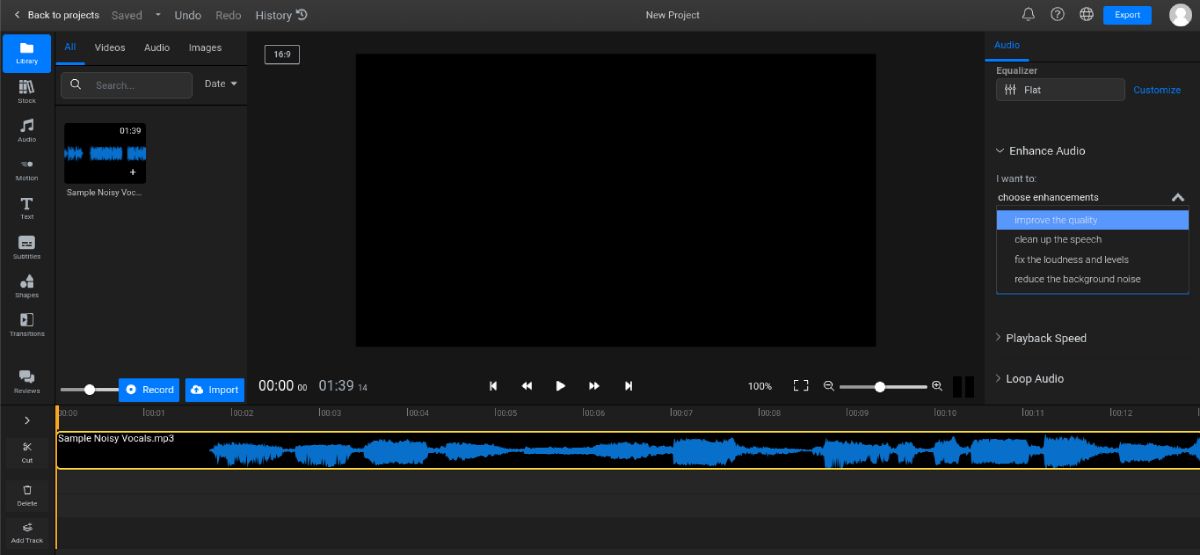 Flixier is a powerful AI video editing web app that also offers one of the best AI audio enhancer tools out there. This tool is slightly hidden beneath layers of other cool options Flixier has to offer, but once you find it, it's pretty simple to use.
To get to it, click on "Choose Video" on this page, and it'll take you to its editor interface. Now, in the "Library" tab, click on "Import" to upload the audio file to the editor, and once it's uploaded, hit the little "+" icon on the audio file to add it to your project.
As soon as you add the audio file, you'll see some audio-related options appear on the right side of your screen. Scroll down to find the "Enhance Audio" option. Here, you can choose the enhancements from the "I Want to" dropdown menu and apply them to the specific element of your audio under the "From My" menu. You can experiment with these options to achieve the sound you're aiming for.
The free version of Flixier has some limitations, but it offers enough to test the tool. You can compare the three subscriptions on its pricing page to assess which one is suitable for your needs.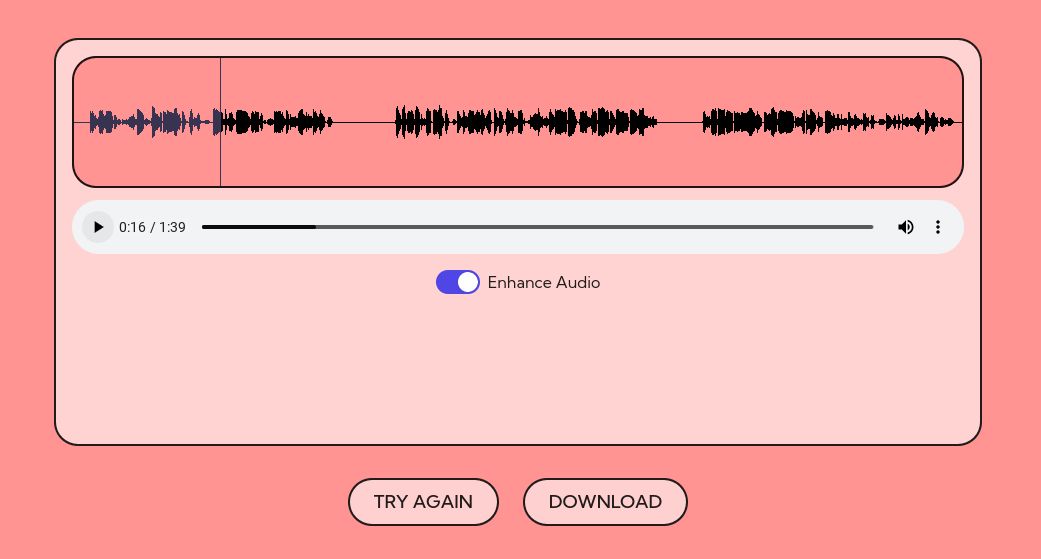 ai|coustics is easily one of the top AI audio enhancement tools for podcasters, and it's probably the simplest to use among the tools on this list. It literally works with one click!
All you have to do is upload your audio file (up to 30 MB in size and five minutes in length) and click on "Proceed" to let it do its audio-enhancing magic. There are no other options to choose from, so if you're looking for a tool where you can personalize the options, this might not be the one for you. However, if you don't like the result, you can always hit "Try Again" to produce a different output.
ai|coustics is a beginner-friendly and partially free AI audio enhancer that requires no technical knowledge to operate. Moreover, if you like what it does, there's also a "Business" package you can subscribe to for advanced capabilities.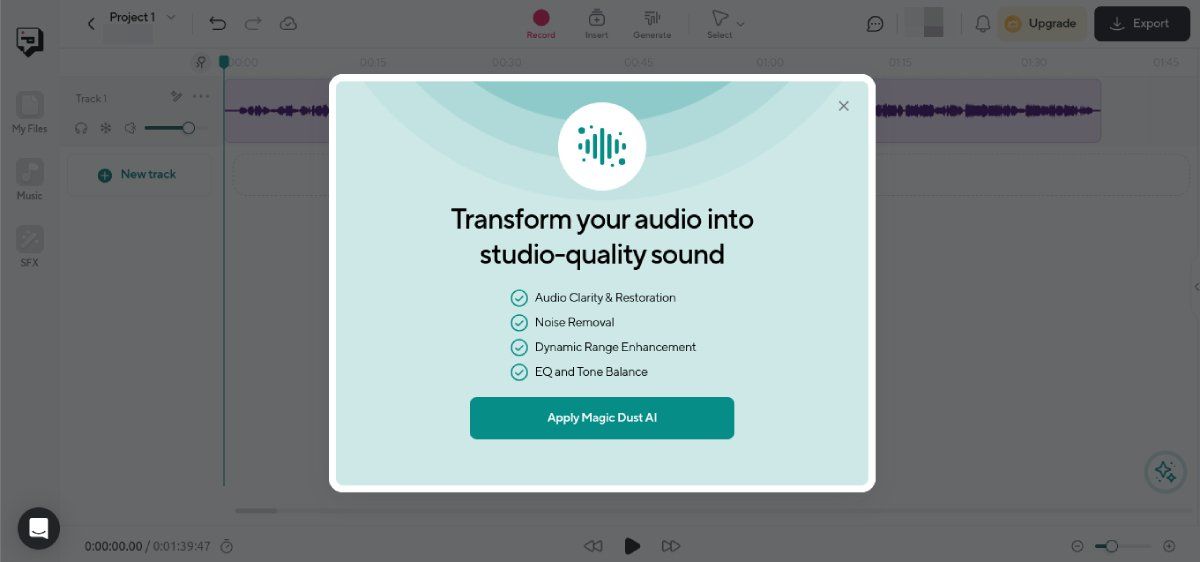 Podcastle, as the name suggests, is a specialized audio web app aimed specifically at podcasters. With its complete set of tools, you can easily create your podcasts from scratch within the app. It also includes a paid AI audio enhancer tool that claims to make your audio sound like studio-quality recording.
On its editor interface, you can either record audio live or upload a prerecorded audio file. If you upload an audio file, it straight away offers to enhance the sound using its Magic Dust AI. You can also apply it to your recordings at a later stage. However, as mentioned, this option is only available in its premium subscription.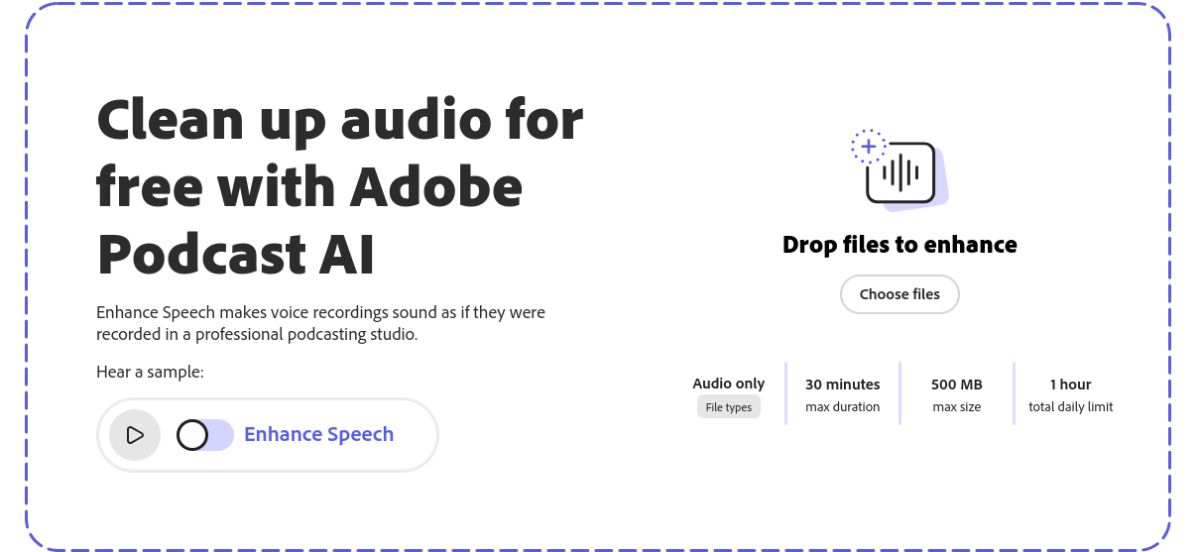 Enhance Speech by Adobe is similar in terms of simplicity and beginner-friendliness to ai|coustics. You just upload your audio file, and the tool does the rest.
However, Enhance Speech outshines ai|coustics when it comes to the file limits. You can upload an audio file up to 30 minutes in length and 500 MB in size. It lets you process up to one hour of audio per day.
If your requirements are fulfilled within the above-mentioned limits, Enhance Speech is literally a completely free AI audio enhancer tool for you. Further, you can always upgrade to the premium version for more flexibility and advanced options.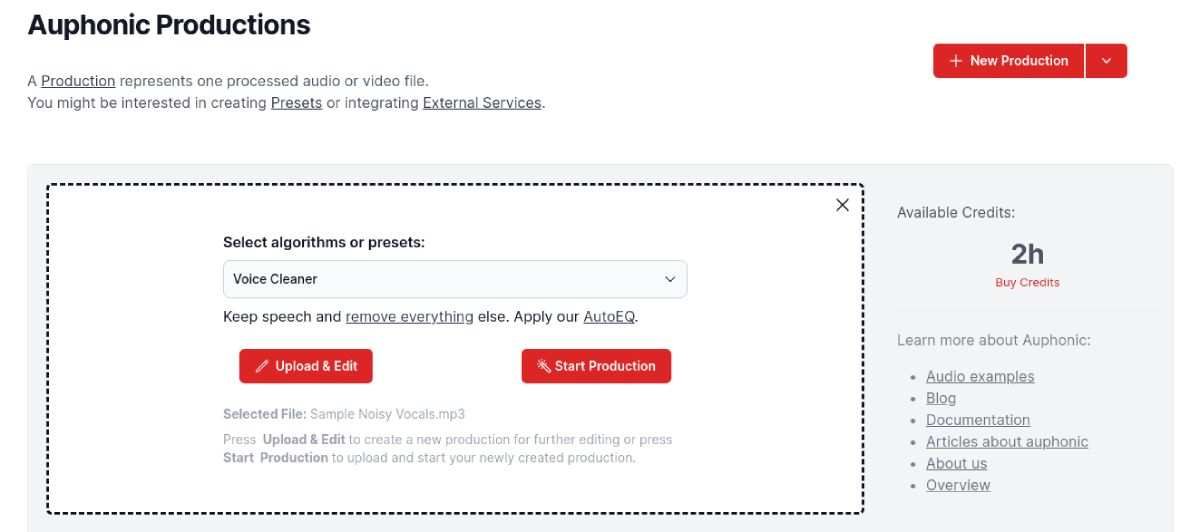 If you take into consideration the number of options Auphonic offers, the two hours of free audio enhancement per month, a balance between simplicity and technical aspects, and the quality of results, these factors put it right among the very best AI audio enhancer tools for musicians and podcasters alike.
When you upload an audio file to Auphonic, it offers to apply a bunch of enhancement presets to the file, including voice cleaning, leveling, and more. If these presets don't produce the required sound, you can try your luck with creating your own presets. However, that'll require some technical knowledge on your part.
As mentioned, you get a handsome free processing time each month as soon as you sign up for an account. You also have the option to go for two other paid options to increase the time limits: monthly or pay-as-you-go. The best part is that the core functionality remains the same in the free and paid versions.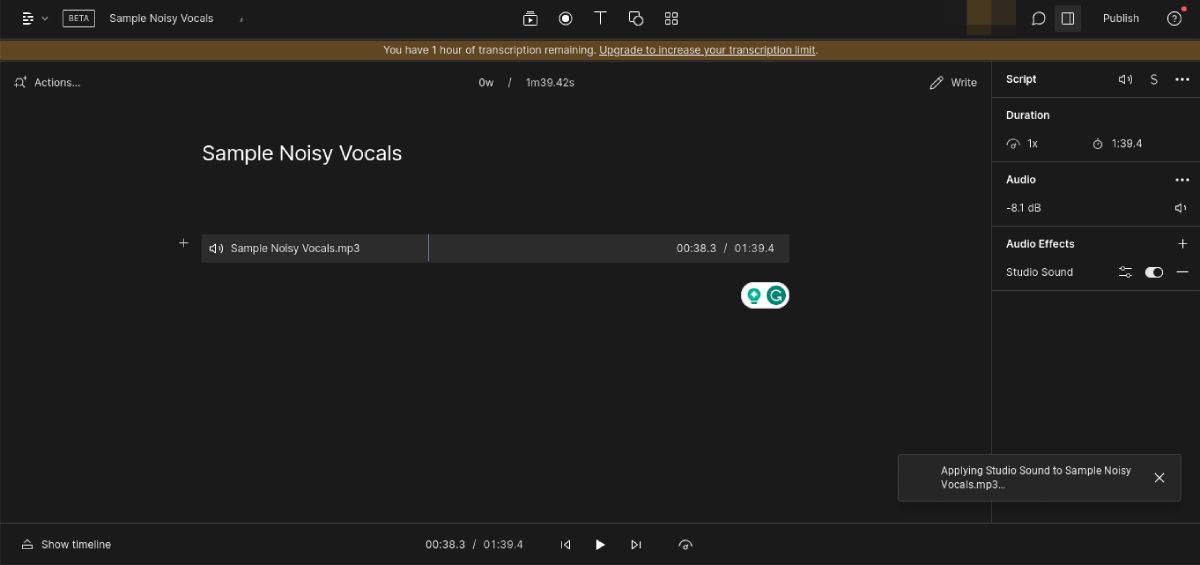 Descript offers a lot of audio-related tools that you can explore, and one of those tools is its free voice enhancer. Like Flixier's audio enhancer, it's slightly buried beneath other options, so you might have a hard time finding it.
To improve audio, click on "Get Started" on this page and sign up to get to your "Drive View" page. Here, you have to add a new audio project by clicking on "+ New." On the next page, you can either record audio or upload your file to the project.
Once the audio is uploaded, click on "Insert Into Script" in the pop-up window. Now, on the right of your page, click on "Script," and you'll see an option to turn on "Studio Sound." This option is the one that enhances your audio through AI.
The free version of Descript allows up to 10 minutes of Studio Sound conversion. You can increase these limits in the premium subscriptions while also adding a bunch of other functionality to it.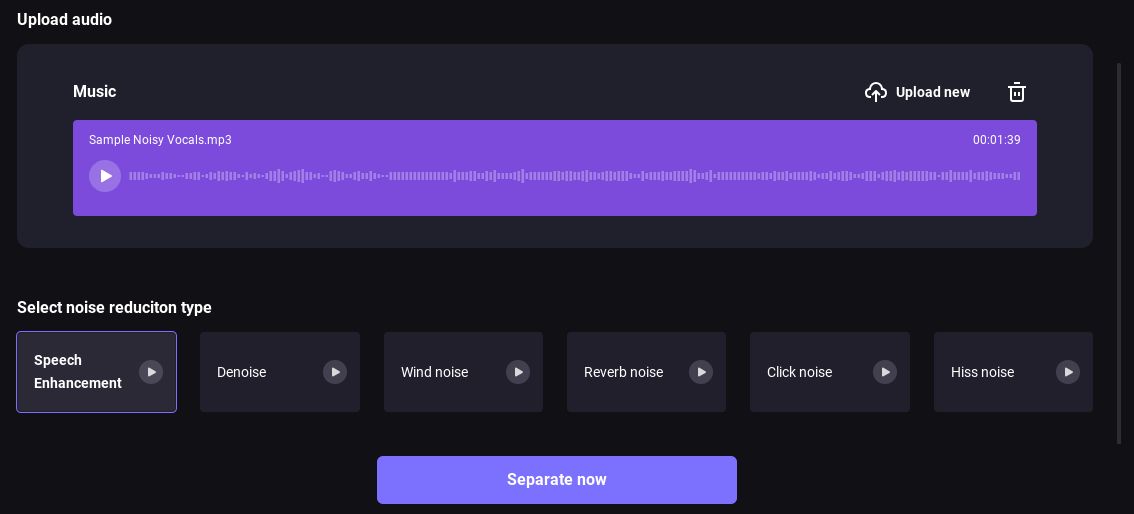 Media.io offers a suite of paid AI audio tools to improve sound quality. These tools include vocal remover, noise reducer, audio converter, audio compressor, and voice changer. Each one does exactly what the name implies.
Media.io also has a great AI music generator that you can use to generate soundtracks. Each tool on this website is a small web app on its own that can be used individually to avoid cluttering the interface with options you don't need.
In terms of subscriptions, you have two options. You can either subscribe to Media.io's whole suite of tools or only go for the ones you actually need for a fraction of the price.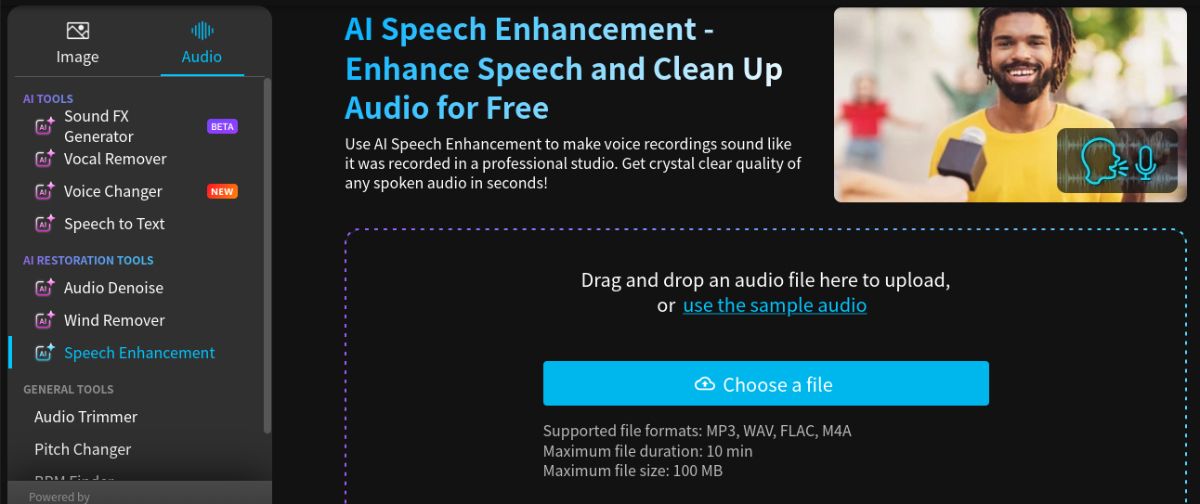 MyEdit, like Media.io, offers a variety of tools for processing sound. For podcasters, there are three tools under Sound > AI Restoration Tools that are great for improving the quality of your audio files through AI.
For removing noise or wind sounds from your audio, you can use Audio Denoise or Wind Remover. For a more thorough vocal improvement, you can go for AI Speech Enhancement. With these three tools, you can take the sound quality of your podcasts to the next level.
MyEdit offers all of its AI tools for free with limited use. To lift those limitations, you can go for its premium version.
Audo Studio might sound like a big software for music production, but in fact, it's a pretty simple-to-use AI audio enhancer. It currently does two things only: reduces background noise and auto levels volume. There's a greyed-out third option to reduce reverb that's going to be added soon.
In the free version of Audo Studio, you're limited to just 20 minutes of audio enhancement per month, which is barely enough for testing. So, if you want to use it on your projects, you'll have to get one of its premium subscriptions.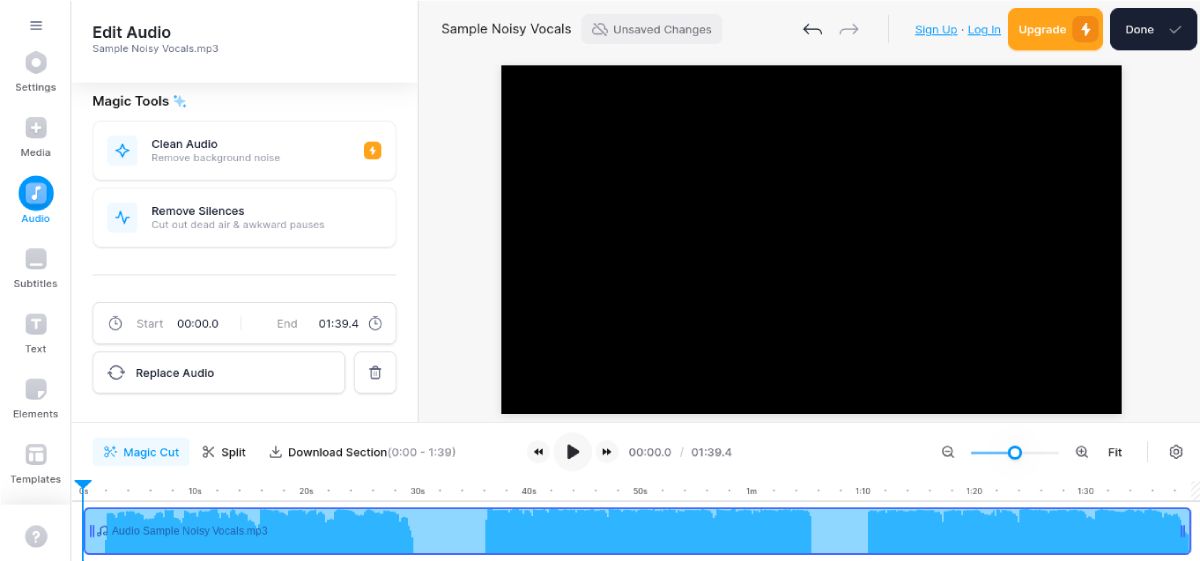 Veed is a whole suite of AI tools, one of which is its Audio Editor. This tool has a paid option to clean your audio that you can unlock with a subscription. However, you can remove silences from your audio for free.
If you just need a tool to remove noise from your audio and enhance clarity, Veed might be too expensive for you. But we encourage you to check out the other AI tools included in its subscriptions to see if you can make use of them in your content production process. If so, it might just be worth your hard-earned dough.
What Else Can You Do With AI?
The sky is the limit here, but here are some ideas. You can use one of the AI music generators to create music and AI singing voice generators to accompany your music with a voice. And, once your draft is ready, you can use AI music enhancer tools to improve the quality of your AI-generated song.
So, you have a song in hand. Right? You can now post it on LimeWire and make money with it. How, you may ask? Check out the FAQs related to becoming a creator on LimeWire.