LimeWire Launches with Award-Winning Artists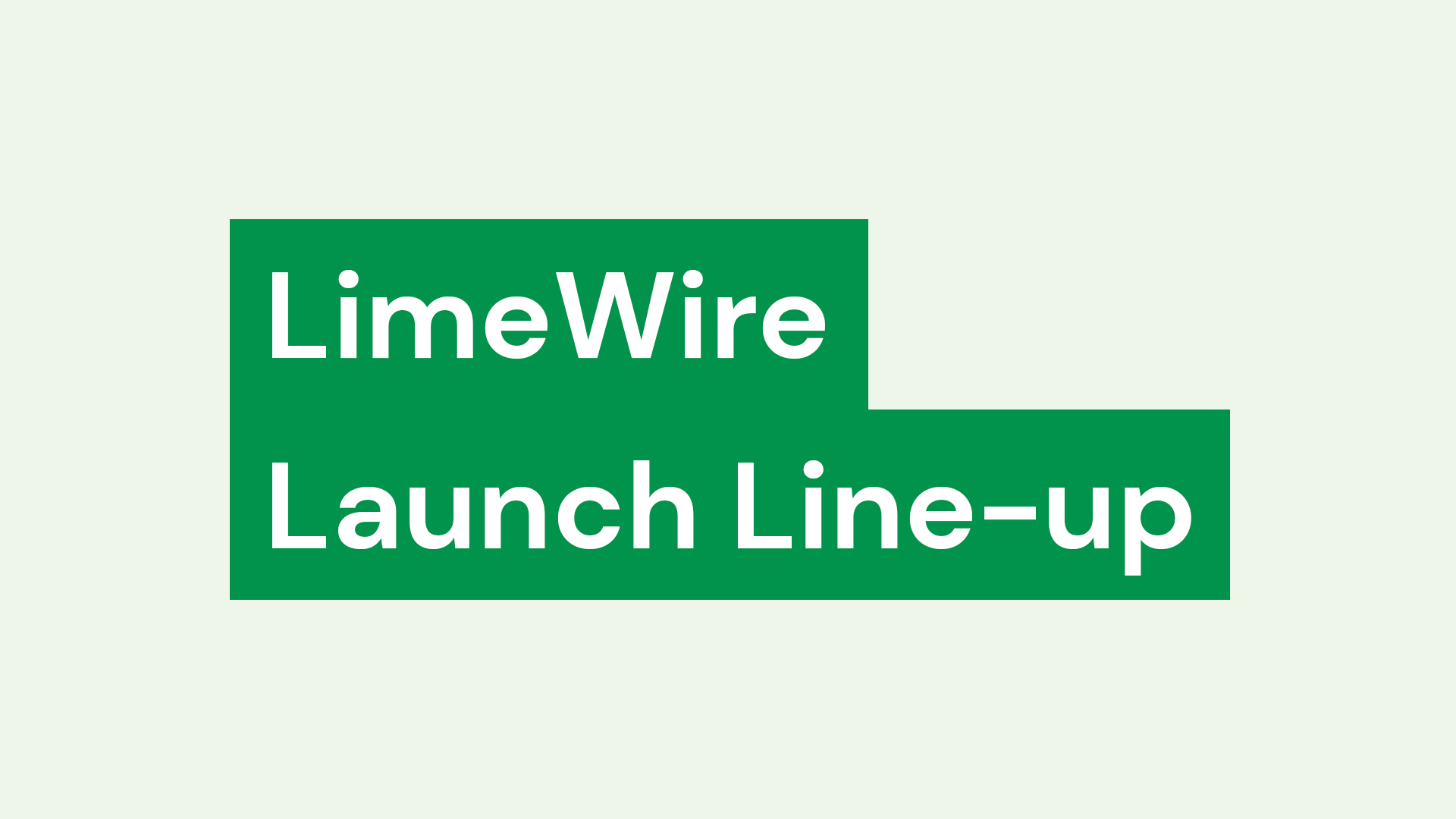 It's the biggest day for LimeWire so far - we just launched our marketplace today with the first collections lined up. Travis Barker, Brandy, Nicky Jam, Aitch, Dillon Francis, FitLit Club featuring Jim Jones, Maino, Dave East and Fabolous, Gramatik, 7 Aurelius and Elijah Blake will be dropping exclusive NFT collections on the LimeWire marketplace in the coming weeks. The first available collection is from 7 Aurelius on July 7th. Make sure you sign up for LimeWire, set up your payment options and wait for those drops.
"I have always been interested in Web3 and NFTs so I am pretty stoked to release my first NFT collection and to do it on LimeWire. I hope that my NFT collection will inspire aspiring artists and fans who want to learn about my creative journey and how I make music.  LimeWire has created a platform that makes exciting content like this accessible to all of my fans - even ones who are unfamiliar with Web3," said Travis Barker.
The initial set of collections represents the wide range of content available on LimeWire, from original tracks to artworks, as well as content with in-person experiences such as backstage passes or meet-and-greets and in Travis Barker's case, a real drum kit. On LimeWire, collectors are able to purchase exclusive and unreleased music, video content and digital artwork in the same way they would collect a rare painting or buy a limited edition vinyl of a song.
"I am so happy to be partnering with the Probably Nothing team to launch my spoken word and Photosynthesis Flower NFT on Limewire. NFTs have become such a big part of culture and this project allows me to connect with my fans on a whole new level," said Brandy.
We are committed to lowering the barrier to entry into the NFT ecosystem for both artists and collectors new to the space by stripping away technical hurdles, radically simplifying user experience on the marketplace and with an overall mainstream-ready approach. Music fans can sign up at limewire.com to gain access to the LimeWire marketplace ahead of collection launches and make payments easily via credit cards or crypto currencies.
"We see a huge demand in the entertainment space for platforms that recognise and appreciate artists for their talent and put them in the driver's seat," said Paul and Julian Zehetmayr, LimeWire Co-CEOs. "LimeWire presents a new commercial opportunity for artists of all sizes and genres to engage with their fans, gain more exposure in a unique way and retain more of their earnings."
Other artists joining the platform include A$AP Mob's A$AP TyY, CJ Fly, Oritsé, Mollow, Luciana, Blacka Di Danca, Samuel Herb, Idalia Valles, Stefano Manrique, David Asante, DJ Monday, BXB LOVE, Noah Jvmes, A-SHO, PERFXN, Rossi. and more.
FIND OUT MORE ABOUT THE COLLECTIONS
Legendary drummer Travis Barker will release his first-ever NFT collection on LimeWire. His NFTs will feature behind-the-scenes footage of himself working in the studio, allowing the NFT collectors to have an exclusive and first-hand look at his creative process. Barker will also release a one-of-one NFT that is a 3D model of his drum set and the physical drum set he used at concerts/during rehearsals/in his home.
One of the most legendary artists in Reggaetón and within Latin music, Nicky Jam, will be releasing a layered collection, consisting of an animation of the vintage tape recorder that Nicky uses to this day to record himself during his creative process, together with an exclusive full length recording only accessible to holders of the Nicky Jam NFT on LimeWire.
Brandy, singer, songwriter and actress, is partnering with Probably Nothing's Photosynthesis, the NFT collection from notable restaurateur turned web3 entrepreneur Jeremy Fall. The drop features a collaborative flower bouquet NFT with accompanying spoken word where Brandy speaks about mental health, which is the core mission of the Photosynthesis brand.
Aitch's NFT collection dropping on LimeWire is based off of his upcoming debut album "Close to Home" that is being released on August 19th. In collaboration with contemporary artist Funny Tummy and creative agency Soga World, Aitch is creating a collection  that has a goal of building a deeper connection with the fans, making them really feel 'Close To Home' with him. The NFT artwork will represent each track in his album starring some subtle hints of music features.
Aurelius, the Grammy Award Winning and multi-platinum producer behind some of the biggest names and songs in hip hop and R&B, is releasing The Moment NFT Experience: a collection of 7 Masterpiece A.I. Images, A.I. short films and original songs created by ÆON7, inspired by the Netflix documentary "jeen-yuhs: A Kanye Trilogy". The Centerpiece of the collection is the Seven Produced track 'Moment of Truth' which is featured in the "jeen-yuhs: A Kanye Trilogy" documentary and is the song Kanye rapped over the first time he appeared on a track with Jay Z.
Building on the clips created for his DeFi summer project with Chad Knight, Dillon Francis will be dropping a full EP exclusively created for LimeWire. The EP consists of compositions Dillon created solely using his skills as an experienced musician and producer.
The iconic hip hop artists Jim Jones, Maino, Dave East, and Fabolous have joined forces as FitLit Club to release their first music NFT called Energy. The collection consists of an exclusive song and a digital art piece, telling the story of the four hip-hop heavyweights and their joint fashionable lifestyle combined with their passion for physical fitness culture. A unique song that is meant to keep fans motivated to get in shape, only available on LimeWire.
Two-time Grammy Award winning singer-songwriter Elijah Blake will drop a song called "Se Pa Pou Dat" produced in collaboration with Jerry Wonda, as well as visual art, of which a portion of sales will go to benefit St. Damien's Children's Hospital in Port Au Prince, Haiti, the only hospital in Haiti that treats childhood cancer. Elijah has teamed up with Haitian artist UncuttART to create a physical and digital painting that will accompany a music NFT. This one-of-a-kind unlockable NFT will include the actual physical painting, signed by both the Haitian artist and Elijah Blake.
Music producer Gramatik has launched a limited collection of NFTs partnering with LimeWire. This latest drop consists of three pieces in collaboration with Luxas & DarkPxl. The Cyberpunk-infused 'Dawn Of Machines' and 'Analog Droid' are in Gramatik's original Music NFT style, armed with gritty electronic music and full-length animated videos, while 'Beppe's Struggle' is an animated loop depicting a struggling Seahorse in a sea full of waste, raising awareness about the problems with pollution and endangered species.