LimeWire raises over $10 million in private token sale led by Kraken Ventures, Arrington Capital and GSR
We're thrilled to announce that we successfully closed the private sale for our LMWR token at over $10 million.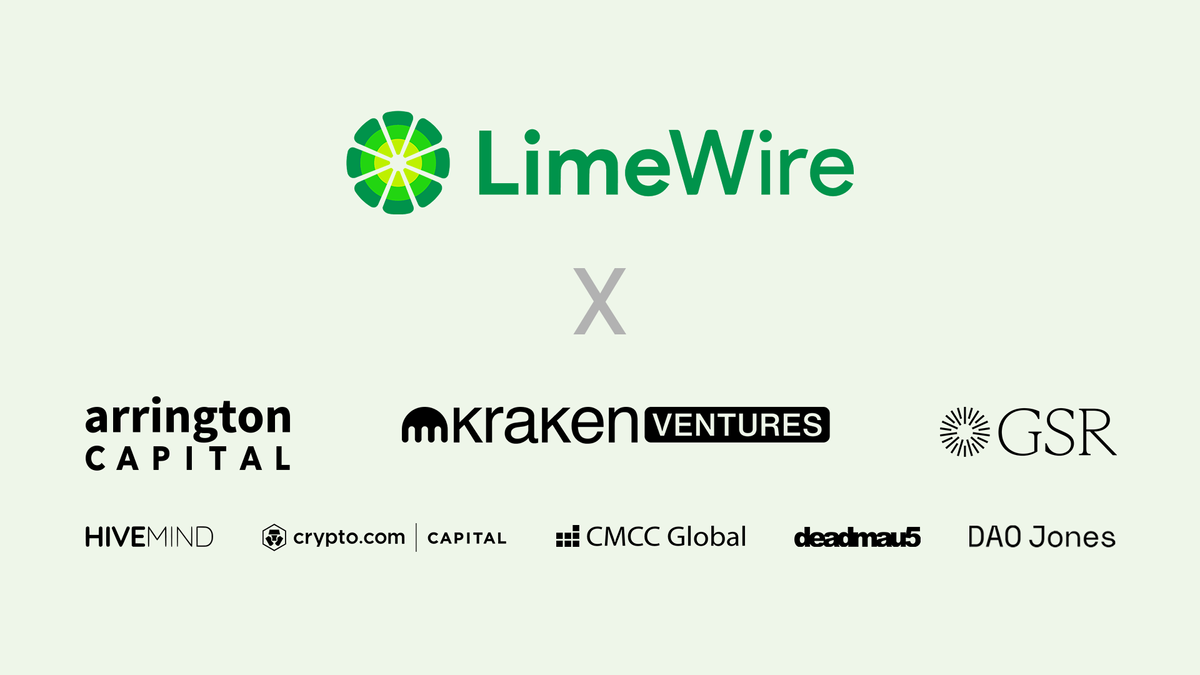 We're thrilled to announce that we successfully closed the private sale for our LMWR token at over $10 million. With strong partners and investors backing LimeWire, we will launch our digital collectibles marketplace for everyone later this year.
Our goal at LimeWire is to bring digital collectibles to everyone, no matter the budget or tech-savviness. Our digital collectibles marketplace is set to launch in the coming months, and we will announce more details and signed artists soon.
The private token sale was led by Kraken Ventures, Arrington Capital, and GSR and closed at around $10.4 million. Additional investors include Crypto.com Capital, CMCC Global, Hivemind, Hard Yaka, Red Beard Ventures, FiveT Fintech, DeepTech Ventures, SwissBorg Ventures, 720Mau5, the fund behind Canadian music producer Deadmau5, as well as DAO Jones, a group of investors consisting of high-profile members from the music industry, including well-known electronic music artist Steve Aoki.
We will use these funds and strong connections within the crypto and music industry to grow our team, extend partnerships, support artists, and curate high-quality content on our platform.
"The LimeWire team has developed a platform that's uniquely positioned to increase participation in digital collectibles within the music industry, where many use cases are yet to be discovered," said Akshi Federici, Partner, Kraken Ventures. "As artists perform for live audiences again, positioning NFTs as exclusive backstage passes or access to unreleased content will become an invaluable avenue to strengthen direct engagement and loyalty with fans. LimeWire's digital collectibles marketplace provides artists with a powerful set of tools to seize this immense opportunity."
"The digital collectible market opportunity is huge, but it's not being fully realized. The LimeWire team has the skill and dedication to build a trusted platform that can take the market mainstream and bring huge benefits to artists and fans," said Bobby Bao, Co-Founder and Managing Director, Crypto.com.
The LMWR token will sit at the heart of the LimeWire ecosystem. Holders of the LMWR token will be able to participate in a token reward program, reduce their trading fees on the platform to a minimum as well as enjoy access to exclusive community perks and regular LimeWire events. Further down the line, holders will also start playing a fundamental role in deciding which up-and-coming artists are supported by LimeWire and featured on the marketplace.
We will kick off our official launch campaign in late May 2022 and open up our digital collectibles marketplace shortly thereafter. With an initial focus on music collectibles, the platform is designed to drastically lower barriers of entry into the world of NFTs and make buying, collecting and trading collectibles easy by leveraging credit card payments and an intuitive user experience. Later this year we will also conduct a public token sale for the LMWR token.
Want to stay up to date about everything happening at LimeWire?
Become part of the LimeWire community on Discord.