A First Look at the LimeWire Roadmap
In this blog post, we give you the first detailed glimpse at our roadmap and the features we are planning to gradually introduce to the LimeWire marketplace.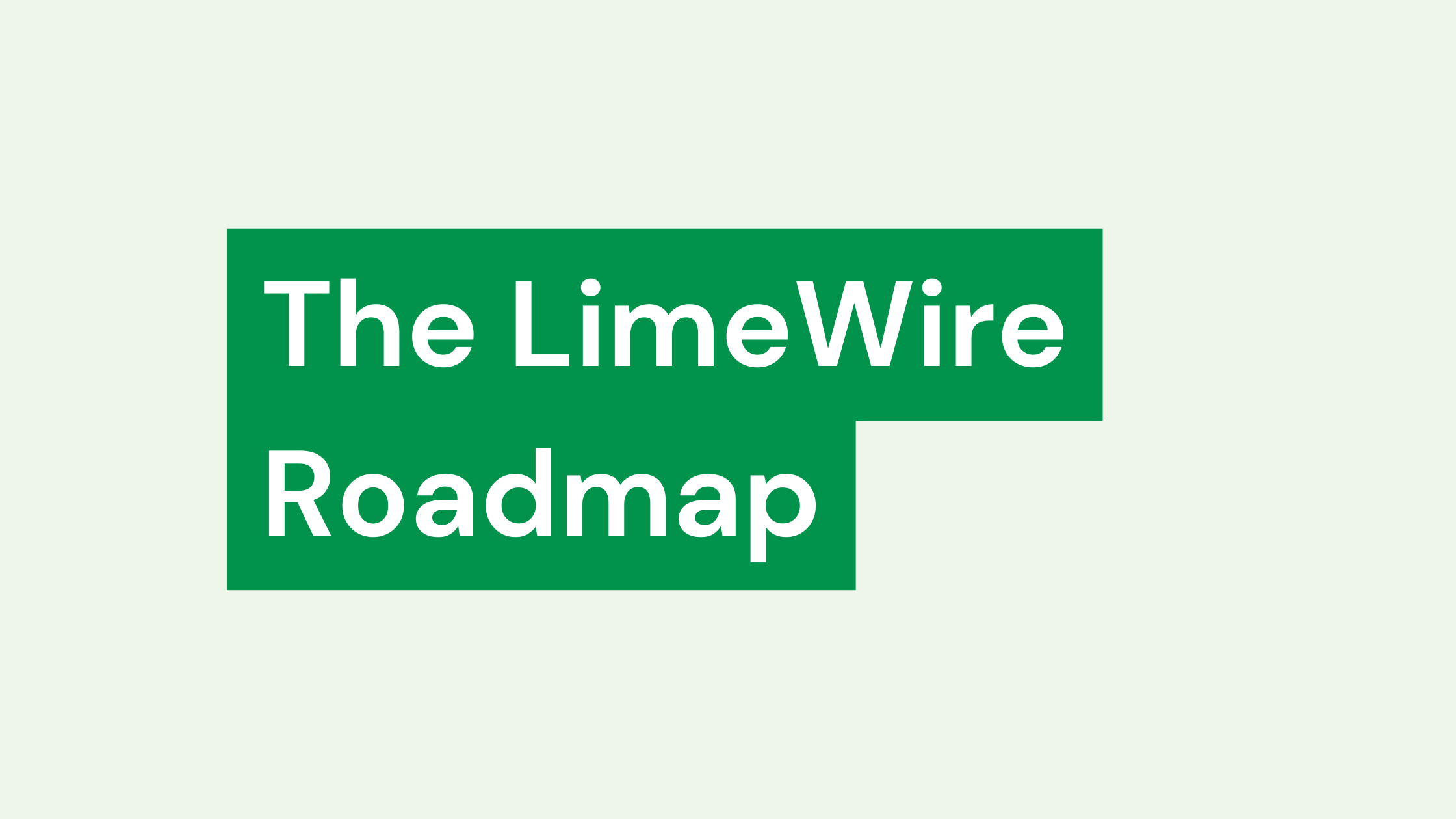 In this blog post, we give you the first detailed glimpse at our roadmap and the features we are planning to gradually introduce to the LimeWire marketplace.
This blog post is part of a series of posts in which we want to regularly give you more information about key aspects of the LimeWire marketplace and the LMWR token.
Part 1: Introducing the new LimeWire
Part 2: Our Vision at LimeWire: Digital Collectibles for Everyone
Part 3: A First Look at the LimeWire Roadmap
Part 4: LMWR Tokenomics
Part 5: Utilities of the LMWR Token
Part 6: Types of NFTs on the LimeWire marketplace
As we've explored in an earlier blog post, our vision is to allow anyone to participate in owning and offering digital collectibles. Now, after we recently revealed our successful private sale led by Kraken Ventures, Arrington Capital, GSR and other reputable investors such as Crypto.com Capital, 720Mau5 (the fund behind Canadian music producer Deadmau5), DAO Jones (a group of investors consisting of high-profile members from the music industry, including well-known electronic music artist Steve Aoki), CMCC Global, FiveT Fintech, DeepTech Ventures, Hard Yaka, Swissborg Ventures, Baboon VC and multiple more - we felt it's time to go into more detail about some of the key features and unique aspects of our approach. As you will see on our roadmap, we will gradually introduce new marketplace features, digital collectible categories, partnerships, and Web3 functionalities. Please note that the following roadmap is by no means complete and may change as time progresses. We will do our best to keep our community updated.
Launch of the LimeWire marketplace (Q2 2022)
At launch, the LimeWire marketplace will focus on music-related Digital Collectibles. We have already closed a number of headline artists, which we will reveal soon. Additionally, we want to give smaller and upcoming artists a platform to offer music and music-related digital collectibles, e.g. demo songs, exclusive content, and community collectibles. At launch, we'll have at least 12 headline artists on the LimeWire marketplace. Later, we will add additional categories, including Film, Art, and Social.

Technical features at launch:
Custodial NFT marketplace with a primary and secondary market
Easy signup and seamless KYC
US Dollar payments (supporting credit cards)
Cryptocurrency payments (Bitcoin, Ethereum, Algorand, and more)
No gas fees and environmentally friendly minting on Algorand
Social verification of creator profiles to ensure authenticity of content
Community features at launch:
Leverage an already vibrant community on Twitter (more than 17k followers), Discord (more than 33k members), and other platforms
Artists can create individual communities (news feeds run by artists with liking and commenting functionality) to engage with NFT buyers
Unlockable content: Creators can create "unlockable" content for NFTs, eg. a unique voice recording that only buyers can listen to or download
LMWR public sale and launch of LMWR Token (Q3/Q4 2022)
After the LimeWire marketplace has launched, we will conduct a public LMWR token sale. We will share more information about the LMWR token and the token sale soon.
More LimeWire marketplace features (2022/23)
After launching with the above features we will add more functionalities and features to the LimeWire marketplace. Our focus will be on giving our users as many choices and options as possible.
LimeWire marketplace features coming 2022 and beyond

Technical Features
Mobile apps for Android and iOS
LMWR crypto wallet for desktop and mobile
Bridging functions to Ethereum and Polygon
Web3 Roadmap
LimeWire Metaverse presence with virtual LimeWire exhibitions of NFTs and virtual concerts for LMWR token holders
And more …
Gradually add decentralization components (2023)
At first, we will focus on building a mainstream-ready centralized marketplace for Digital Collectibles. Usability will be key for us, to not only appeal to a crypto-savvy audience, but to everyone interested in acquiring Digital Collectibles by their favorite artist.
Our goal, however, is to gradually move towards decentralization.
More yet to be defined features (2023)
We have a lot of additional ideas for both the LimeWire marketplace and the LMWR token. We are also constantly listening and engaging with our community, as we believe that their opinion should play a vital role in shaping our future. Expect community votes and other opportunities to have a say as a user of LimeWire and a member of the community.
At launch, NFTs will be minted on Algorand, and bridging functions to Ethereum and Polygon will be added later.
This includes features like (weekly) charts and votes for the most popular artists. We will heavily include our community in identifying what they want to see first and if there are features we don't have yet on our radar. We are also planning to launch the LimeWire foundation, where our community will be able to vote on which artists we should support with grants. We are also thinking about crazy stuff like virtual LimeWire venues in the Metaverse.

Want to stay up to date about everything happening at LimeWire?
Become part of the LimeWire community on Discord.