Introducing the New LimeWire
Meet the new LimeWire: The first truly mainstream NFT platform for music and more – a bespoke place for artists to engage with their community.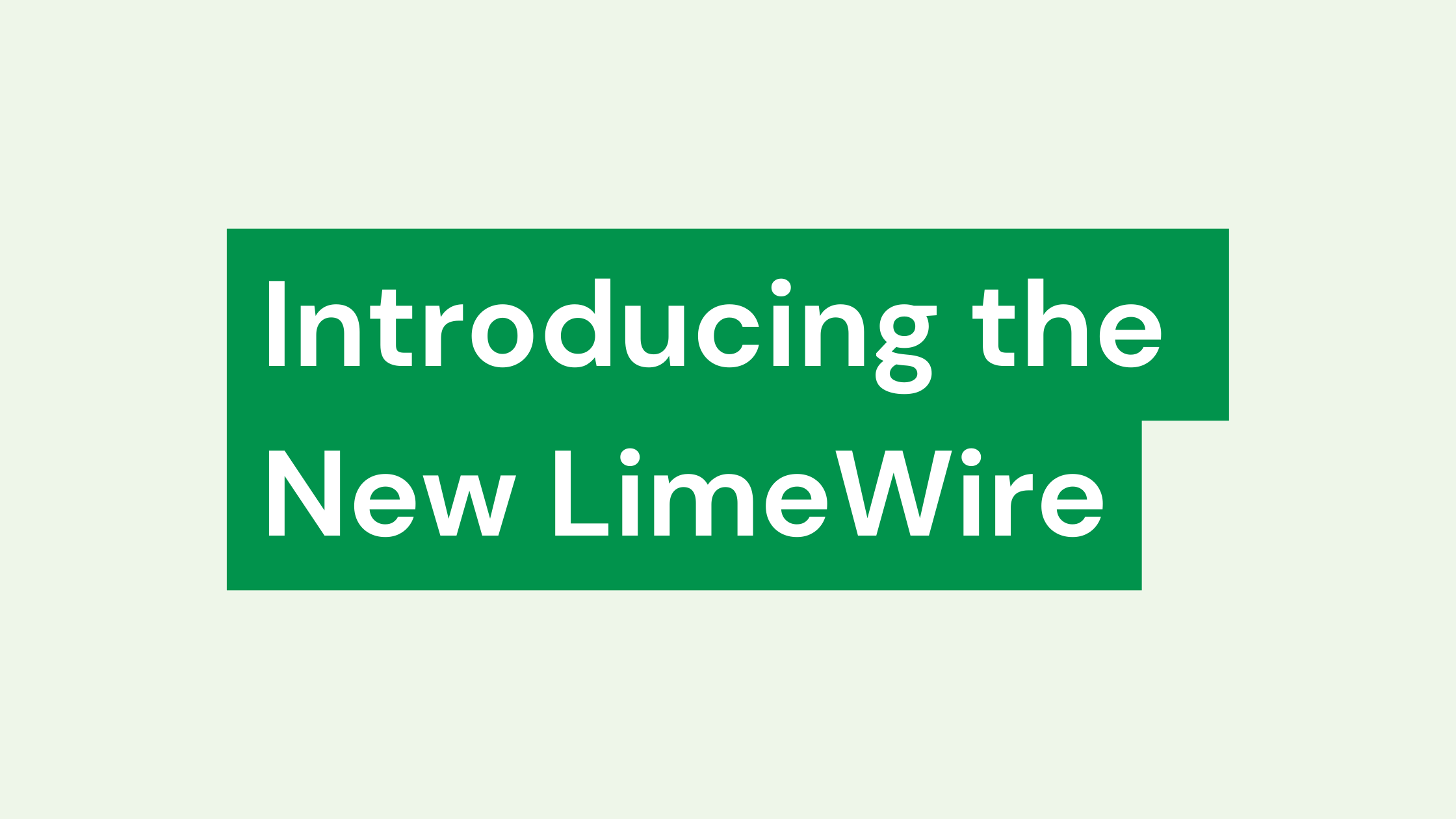 Meet the new LimeWire: The first truly mainstream NFT platform for music and more – a bespoke place for artists to engage with their community.
This blog post is part of a series of posts in which we want to regularly give you more information about key aspects of the LimeWire marketplace and the LMWR token.
Part 1: Introducing the new LimeWire
Part 2: Our Vision at LimeWire: Digital Collectibles for Everyone
Part 3: A First Look at the LimeWire Roadmap
Part 4: LMWR Tokenomics
Part 5: Utilities of the LMWR Token
Part 6: Types of NFTs on the LimeWire marketplace
You may know LimeWire from back in the day. Released in May 2000, the peer-to-peer software quickly became synonymous with pirating MP3s and videos in the early days of file sharing. At its peak, the software had over 50 million active users. Since then, the music industry has changed significantly. After pirating music for free, paying for digital music became the norm to be again replaced by music streaming services.
Today's LimeWire is very different from the old LimeWire. In fact, our goal is the exact opposite: Instead of handing out art for free, we aim to give artists the opportunity to monetize their work in a secure, easily accessible environment with fair compensation.
LimeWire is an easy-to-use NFT marketplace with a mission to allow artists to go back to selling records, music-related art and other collectibles directly to fans and followers — as simple as possible. LimeWire can be used by anyone, without any pre-requisite technical knowledge about NFTs, and even without the need to own any cryptocurrency.
LimeWire is a mainstream-ready marketplace for musicians to distribute art and uniquely interact with collectors, their most loyal community of fans, and anyone interested in their music and art.
The new LimeWire is very different to the LimeWire back in the day. This time we want to empower artists to offer Digital Collectibles instead of handing their work out for free. We are ready to change the industry once again.
Brand Recognition
In the 2000s, LimeWire had more than 50M average monthly users at peak times. LimeWire will be mainstream-ready once again and capable of re-acquiring users with ease due to its low barrier of entry into NFTs.
Loyal Fanbase
The term LimeWire is still searched for around 10,000 times per day and posted about on Social Media every few minutes, despite being offline for 12 years. The brand is still in people's heads, and we are aware of its heritage.
Mainstream Ready
With a game changing UI/UX, denomination in USD and by accepting traditional as well as crypto payments, LimeWire will be accessible to the mass market: a selling point unique within the NFT industry.
Background on our Vision
The music industry is broken. The streaming market is dominated by a few powerful players, who pay artists less than a penny per stream. At the same time, artists are looking for new, better ways to directly reach their fan-base and monetize their creative work. This is a crucial aspect as since the COVID-19 pandemic playing live has become increasingly difficult and uncertain. There is a need from both artists and fans to maintain an intimate relationship in a world that is increasingly becoming more digital and less dependent on physical venues and real-world interactions.
At LimeWire, our vision is to give artists as well as fans the chance to engage with each other on an easy-to-use, frictionless marketplace for Digital Collectibles.
Since the launch of the Bitcoin network in early 2009, digital assets have evolved to become a driving force in offering alternative monetization models for creators of all sorts. Micropayments are one example of leveraging the opportunities cryptocurrencies offer. Bitcoin, Ethereum and other digital assets are entering a phase of maturity, and are increasingly seen as "digital gold" and "digital silver".
However, Non Fungible Tokens (NFTs) are what is most interesting when it comes to giving creators, artists and fans alike the opportunity to trade Digital Collectibles.
As the industry continues to grow at an incredible rate, it's obvious that we are only at the cusp of leaving its infancy. And there is a lot of work to be done. From a better user experience, a more reliable and efficient blockchain-infrastructure, to more due diligence when it comes to the Digital Collectibles itself.
We believe that NFTs aka Digital Collectibles are an even bigger market than cryptocurrencies themselves, and we think that they are the most mainstream-friendly use-case for digital scarcity so far.
The potential is limitless as verifiably scarce, portable and programmable digital goods can be anything from a simple picture, a piece of land in the metaverse to a virtual item you can take with you inside different video games. They can also be multiple things at once: A unique bonus track from your favorite artist, that also is a backstage pass for a virtual or real-world concert. Musicians like Kings of Leon embraced the power of NFTs as early as of 2018. Christie's auctioned off Beeple's Everydays for $69 million in 2021.
Join the waitlist and be part of changing the industry once again!